There's no disputing the growth in the software as a service (SaaS) sector. The SaaS market is growing at 18% a year, and by 2021 the mobile SaaS industry is forecast to be worth $7.4 billion. That's great news for software as a service companies and marketers who depend on SaaS sales tools.
Using SaaS sales tools can help you maintain customer communication, effectively manage your customer base, oversee your team, and reach prospects in a more effortless way than ever before.
However, there are so many SaaS sales tools available it's hard to narrow down the choices. Let's review some of the options.
What Are SaaS Sales Tools?
SaaS sales tools help companies function, manage their schedules, optimize their conversions, and keep their teams updated.
Users of SaaS software download their cloud-based apps for business use. However, when you use SaaS tools, you don't own the software outright. Usually, you'll pay monthly, quarterly, or yearly subscription fees. For specific SaaS sales tools examples, think of MailChimp, HubSpot, and Zendesk.
Examples of Tools for SaaS Sales
Multiple SaaS tools are available to help optimize your marketing. They come in various categories, like customer relationship management (CRM), email finders, and automated outreach. Below I'm going to discuss some of them and the benefits for your business.
CRM SaaS Tools
CRM tools enable companies to manage their business relationships effectively. Although these SaaS sales tools are known as customer relationship management systems, their functions go far beyond that. You can also use them for:
Internal communications with staff
Maximizing your sales opportunities
Managing your email subscribers
Personalization
Nurturing leads
Customer relationship building and retention
Finding new business prospects
Organizing your data and tracking your communications
Pipedrive
Pipedrive aims to deliver qualified leads to help you grow your business. It's an internet-based system that streamlines your activities, allowing you to nurture leads and convert them into clients.
A major benefit of Pipedrive is the 14-day free trial. It's easy to get started, and you get full access without sharing your credit card details.
To begin your trial:
Click the "Try it Free" link.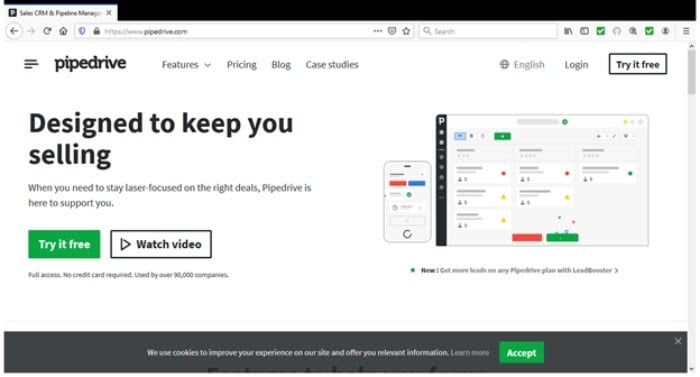 Pipedrive gets plenty of positive reviews because it's easy to customize. However, its ease of use, ability to track prospects, and intuitive interface also score highly among users.
But it's not all good. Some find issues with integrating apps, while others find reporting is lacking. However, generally, Pipedrive is highly rated.
Salesmate
If you need SaaS sales tools that give flexibility and customization, you may find Salesmate becomes one of your go-to choices.
Salesmate includes multiple features and may enable you and your team to meet goals while building customer relationships and increasing success levels. However, that's not all it offers.
Like Pipedrive, Salesmate provides customization and integration with multiple tools. Intuit QuickBooks, Zapier, Slack, and Mailchimp are just some options that integrate with Salesmate.
Additionally, Salesmate provides excellent customer support, and its affordability gains it some extra points.
As with most SaaS tools for sales teams, you may find a few aspects don't work so well. The main concerns are the occasional bug, and some users find time lags an issue.
Podio
Podio provides customization, aiming to allow you to run a range of projects smoothly and efficiently.
Podio's feature-rich system may let you close sales leads and communicate effectively with your team, all while providing a single workspace.
Besides optimizing your organization, you can manage tasks, share files, create workflows, and web forms.
There are already some great positives there, but Podio still has more to offer. For example, it syncs with well-known apps like FreshBooks, Zendesk, Evernote.
However, I ought to point out some of the negatives. The top complaint appears to be a lack of Google calendar integration, and others find the learning curve a bit steep due to Podio's multiple features.
To get started, you can sign up for a free plan, which will give you access to task management and apps and workspaces.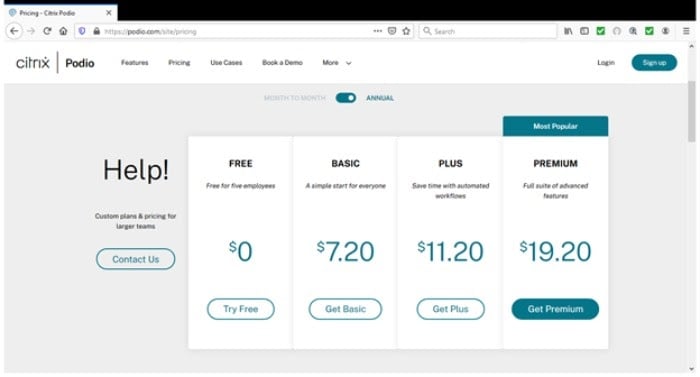 SaaS for Automated Email Outreach
Email outreach is at the heart of many businesses. However, it's time-consuming, most emails never get answered, and reaching the right people at the right time is often the most challenging part. Using automated tools can help, which is why most companies surveyed say they use automation.
By sending regular, targeted emails to your subscribers and prospects at specific times, you may be more likely to start a conversation or at least move a prospect further along the customer journey.
Here, I'll look at a selection of the automated email outreach SaaS sales tools available.
Klenty
Rather than spending your time sending out cold emails and following up, Klenty automates these tasks. With Klenty, you can send out personalized emails and follow-ups at a high volume, and you can integrate it with tools like Pipedrive and Salesforce.
In addition to automation and personalization, Klenty offers deliverability and can reduce repetition. Other pluses include affordability and easy email scheduling. If you want a complete system, you can integrate Klenty with a CRM.
Just a couple of negatives, though. You may find the UI looks dated, and it could work better with mobile devices.
Postaga
Postaga is an outreach tool. It:
Automates outreach
Promotes content
Creates backlinks and social shares
You can also use Postaga to find key contacts, discover guest posting opportunities, and analyze your content.
In addition, Postaga comes with an AI outreach assistant built in. If you want to try before you buy, Postaga offers a free plan.
On the downside, some find Postaga challenging to get a grip on. However, Postaga has plenty of tutorials available to provide guidance and offers a responsive customer service team.
MailShake
Another email automation tool is MailShake. It's a simple to use platform aimed at delivering more prospects to your sales team. The program provides tools, templates, and automation, which combine to streamline your outreach efforts and increase your ROI.
Like Klenty, MailShake allows you to send large volumes of personalized emails to potential customers. You can then establish a set of tasks designed to engage with prospects through email and phone.
One benefit of MailShake is its live training and concierge onboarding, which makes it accessible to everyone.
However, some are iffy on MailShake's limitations. It only works with Gmail or G Suite, and some feel it's a bit pricey.
MailShake provides two packages: $59 per month for email outreach and $99 per month for sales engagement.
Yesware
Are you looking for a set of straightforward outreach SaaS sales tools that provide you with the essentials for prospecting, scheduling meetings, and following up? Then the Yesware add-on for Outlook and Gmail could be just what you need.
In addition to its tracking, reporting, and analytics features, Yesware gives you template analysis. This function allows you to see how well your templates perform and if they need some tweaking for better results.
Another feature worth highlighting is the "campaigns" dashboard for viewing your open, click, and connect rates.
Yesware offers three plans: Pro, Premium, and Enterprise. Pro ($15 per month with an annual subscription) is relatively limited, but it can give you some of the essential information you need. Premium ($35 per month with a yearly subscription) allows more automation and customization, and Enterprise ($65 monthly with an annual subscription) lets you access all the site's features.
SaaS and Email Address Finders
Finding the exact contact details for the correct person is a challenge all marketers face. However, this task may be made simpler with an email address finder.
Email finders exist to help you locate the contact details you're searching for. They generally offer several potential email contacts and other essential information like phone numbers and social media details.
Some are free, but with limitations, while others charge a monthly fee and integrate with CRM systems.
RocketReach
RocketReach connects marketers with decision-makers and uses the world's "largest and most accurate database of emails and direct dials." According to their site, RocketReach holds contact information for millions of professionals.
It's easy to get started. Just download the Chrome or Edge extension or sign up to try it out.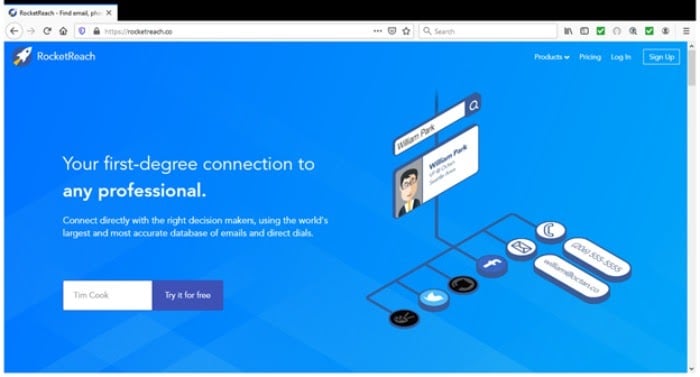 If their basic search doesn't give you the information you need, there's always the advanced search option.
Another way RocketReach could aid your marketing is through its outreach service. This allows you to send emails from your regular mailbox and enables you to fine-tune your communications through email analytics.
Bulk lookups
Salesforce and Zapier integrations
AngelList.and LinkedIn lookups
RocketReach is a bit pricier than some other options. Their Essentials level at $588 per year allows 1,920 lookups all year, while Pro ($1,188) allows $4,500 and Ultimate ($2,988) gives you 12,000. But, the features may make this option worth it if you have the room in your budget.
Dropcontact
If you're looking for an email address finder that integrates with tools like HubSpot, Salesforce, and Pipedrive, consider Dropcontact.
As well as providing essential contact details and CRM integration, Dropcontact identifies duplicates, merges contact files, and provides verified B2B emails and phone details.
As this company is based in France, its pricing is in euros—and its prices begin at only 16 euros per month.
LeadLeaper
Have you ever looked at a LinkedIn profile and thought you'd love to connect with the person via direct email without contacting them to ask for that information? LeadLeaper lets you do that. Simply go to the LinkedIn profile you're interested in, click the LeadLeaper icon in your browser, and you should get their contact info.
Available as a Chrome extension, one of Leadleaper's most obvious advantages is its free option. The free version provides access to 100 leads a month and LeadLeapers' lead manager.
To unlock other features like integration with G Suite, duplicate deletion, and multi-lead management, you'll need to upgrade the Growth package at $19 a month or the Professional subscription at $29 a month.
A considerable advantage of LeadLeaper is its affordability and tracking features. It also rates highly for its usability and integration with LinkedIn Navigator.
On the negative side, you may find the lack of customization an issue, and there's a couple of complaints about the bounce rate. However, LeadLeaper is highly rated overall, and it can count Gartner, IBM, and Amazon among its many clients.
B2B Lead Databases and SaaS
Successful marketing begins with a well-organized list of prospects. You might call this your B2B lead database, or you may have an alternative name for it. Either way, a detailed B2B lead database includes quality contact data along with the information you need to market to your prospects.
Here's a quick look at two of the most popular B2B lead databases around.
ZoomInfo
Designed with B2B sales and marketing teams in mind, ZoomInfo is a cloud-based market intelligence platform. It gives marketers access to an extensive database. Further, it has numerous SaaS sales tools built in to help you target your services at the right time, such as their streaming intent tool.
You'll find a contact and company search option for those looking for the basics, and the ReachOut lead generation Chrome extension is another useful add-on.
There are plenty of other positives as well, including Zoom University and a custom solution option.
There are some minuses I should highlight, though. The main one is some feel contact details need updating more often, and some users struggle with integration.
Leadiro
Leadiro is a B2B data platform holding the details of 49 million contacts. Its features include geotargeting, prospecting tools, and targeted list creation.
You'll find a free trial and free subscription available, which gives you unlimited database access. Paid for packages start at $99 a month.
Leadiro scores highly for its ease of use and quality data. However, like similar systems, you may find duplicates, and the interface looks dated to some.
Conclusion
SaaS sales tools make every stage of the marketing process more manageable. From finding the necessary contact details to managing conversations, automating outreach, and nurturing leads, you'll likely find a SaaS tool available that will help your business in the areas you need it most.
Not every tool is perfect, and they won't all be suited to your company. However, the SaaS tools for business I've detailed are highly rated overall, and they've attracted many satisfied users.
Perhaps the most significant benefit of many of these SaaS sales tools is they integrate well with other platforms to streamline your processes further and maximize your results.
What SaaS sales tools do you find useful?