When it comes to choosing web hosting services, it can be a difficult choice. So let's do a deep dive on two of the more popular hosting services: Wix vs Bluehost. They both are very good web hosts, but have quite a different feature set and excel in different areas. We'll be covering some of the core concepts that differentiate each host so that you can figure out which one is best suited for your needs.
The criteria we will be judging each host on is as follows:
Performance
Usability
Capabilities
Support
Uptime
Price
Each of these are core staples of a web hosting service. So we need to figure out which hosts excel in which areas. That way you will be able to make an informed decision on which host is suited best for you.
So let's jump right in.
Performance – Bluehost vs Wix
When it comes to performance they both have similar ping times. Each website was tested over several months to check average speeds. To do this, we used Pingdom and set up regular interval pings. Heres what we found.
Bluehost has a ping from the USA of about 330 – 450 MS. This averages out to be 390 MS.
Wix has a ping from the USA of about 450 – 550 MS. This averages out to be about 500 MS.
In this case, Bluehost takes the cake for performance. Over the months that we ran this test, we saw about a 100-millisecond difference in speed between the two hosts. We did further research into the statistics behind the speeds and found they confirm our findings.
While a 100-millisecond difference isn't considered HUGE. It definitely is something to take into consideration when looking for a speedy web host. The average user loses interest in around 3 seconds. As such you need your website up and loaded with enough content for the user to read far before then. With this taken into account, you lose around 16% of your time when using Wix and about 13% when using Bluehost, from pure server load time.
These performance tests can, of course, vary depending on your location and where you plan to host the servers with each of these services. But in our general consensus Bluehost definitely wins out on the performance side of things.
Usability – Bluehost vs Wix
Judging usability when it comes to web hosts can be a bit tricky. Both Bluehost and Wix strive to create an amazing user experience so that each person is able to manage their websites without any troubles. So we're going to be looking at some of the tools you will be using on a regular basis to manage any service you might obtain through these providers, like hosting and domain management.
Bluehost Usability Overview
First up is Bluehost.
Bluehost has a simple and clean design when it comes to their User Interface. From their website, once you login, you should be greeted with a screen that looks something like the above.
The interface will allow you to perform most of the main features you will need when it comes to managing your website and domains. Under the "My Sites" section, it will have a list of all websites you have currently hosted on the server. Each one can be individually managed and the settings can be adjusted from that screen.
The Domains tab allows access to a list of all the domains you have registered with Bluehost, as well as any 3rd party domains that are pointed to their name servers. Here you can manage the settings of each domain, things like changing their nameservers, modifying their DNS or transferring the domains.
That being said, the process for setting up your initial account can be a bit tricky. There are some specific caveats that need to be taken into account when setting up your website. Things like, going to your domain list and assigning the domain to a subdirectory for a new website. Instead of having this be done automatically, you will need to perform this manually.
When it comes to advanced features Bluehost has all of the same features you can expect from a CPanel manager.
Overall, the design and usability of the server platform are generally well done. Besides a few points of contention, it is pretty easy to set up and manage a multitude of websites using their panel. Albeit, its mostly just a CPanel manager, covered with some pretty graphics.
Wix Usability Overview
Next up is Wix.
Wix, in my opinion, has a very unique User Interface. Instead of being set up for fine tune control, it is set up with the goal of easing users into the website creation process. They have a clean and simple design, just like Bluehost, but it is aimed at a completely different audience.
The builder Wix uses is very user-friendly and makes a lot of the more difficult aspects of creating a website pretty simple.
While Bluehost strives to give the user complete control over their server and website management, Wix aims to provide the user with simple controls to manage their business. As you see in the above screenshot, the options for managing the site, domain, and emails are limited to specific views. Wix guides you through the process, rather than giving you all of the options up front.
Wix does a tremendous job helping users throughout the entire process of helping the user create their own website and setup each facet of it. It will guide you through the website creation process, domain setup, and even email marketing even without any previous website management experience.
So which is best when it comes to Usability?
When it comes down to it, they both excel in completely different areas. If you are more experience in the web development process and are looking for a tool that gives you easy access to manage everything to do with your servers, Bluehost definitely wins. On the other hand, if you are purely looking to set up a website for business or personal needs and want a calming user experience without all the complications, Wix definitely wins.
TL;DR
Fine Tune Control – Bluehost
Ease of User for a Single Website – Wix
Capabilities – Bluehost vs Wix
The next big criteria to take a look at is the capabilities of both hosting services. Both Bluehost and Wix provide their own exclusive tools to help you manage your website and domains in order to give you the best user experience. So what do each of these services offer? And which is the best for what you are looking for? Let's find out.
Bluehost Capabilities
When taking a look at the capabilities of Bluehost, it's important to understand that some come with certain plan ranges. For the sake of this review, we'll be assuming and looking at the capabilities that come along with their recommended plan, Choice Plus.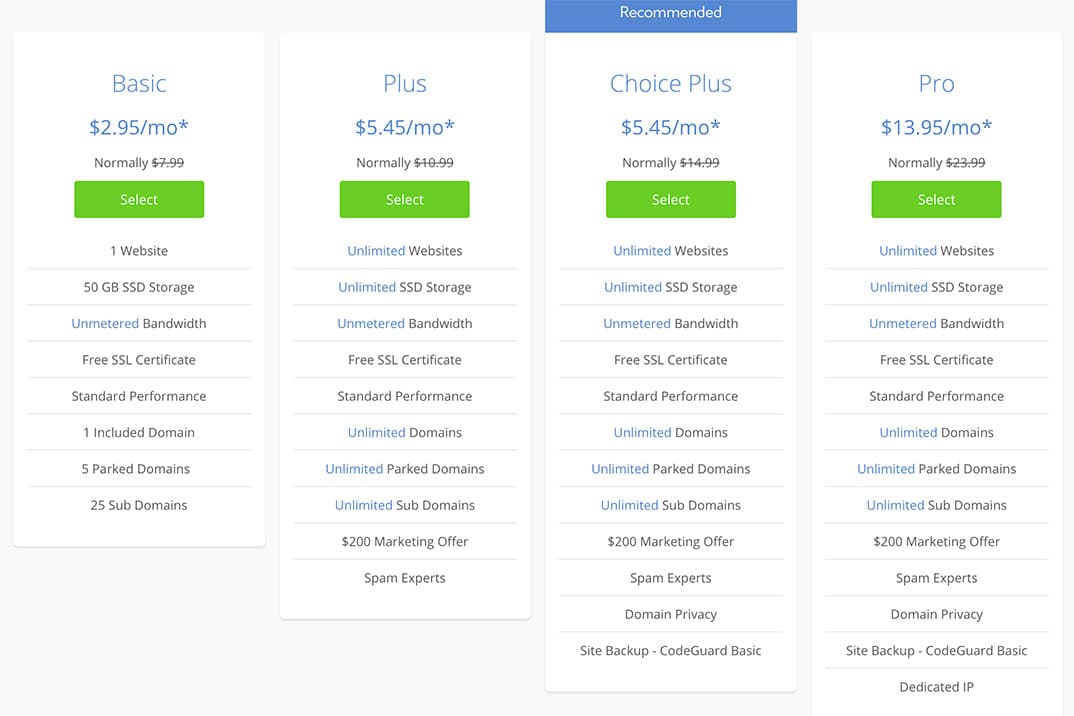 Obviously, some of the big perks that they show on their plans are:
Unlimited Websites
Unlimited SSD Storage
Unlimited Bandwidth
Free SSL Certificates
Unlimited Domains
These 4 features are laid out without much fanfare, so it might be easy to overlook some of them. Of the listed features there are a couple that stand out as being extremely beneficial.
Being able to create an unlimited amount of websites is a huge benefit compared to many hosting services. This allows the flexibility of using this hosting service for many different projects without the need for purchasing multiple plans. Definitely, a lifesaver if you plan to have more then one website and don't want to end up paying a pretty penny to have a bunch of different hosting plans.
Unlimited SSD storage and Bandwidth go hand in hand with the opportunity to create multiple websites. A lot of hosting services will limit the amount of storage you are allowed to have but especially limit the bandwidth usage. These are very important factors to take into account when creating choosing your hosting plan or service because the bandwidth will affect how fast your users are able to view your website, as well as how many users your website can handle simultaneously.
Bluehost also makes it pretty simple to create WordPress official site. Once you set up the hosting service adding WordPress only takes a few clicks.
Outside of those upfront perks featured in the plan comparisons, you will find that Bluehost has a multitude of support for various scripting languages and databases. This is especially important for hosting websites that vary in their programming.
Wix Capabilities
Just like with Bluehost, the capabilities of Wix depend on which plan you will be using for your hosting. In this case, we will be using the Most Popular service plan, Unlimited Store, as our reference for capabilities.
Some of the big perks you will get when choosing Wix are:
Unlimited Bandwidth
Free Domain
$300 Ad Voucher
50,000 Email/Month Campaigns
Diving into these features, they are superb if you are looking to start your own business website.
Unlimited Bandwidth is a must have to make sure your website is running at top speed and can serve a multitude of users at the same time. The Free domain that is included with this plan is a great feature to have and allows you to easily jump straight into your website creation from the initial purchase of the plan.
Wix uses there own content management system, which removes the need for hosting WordPress. This also means it's more accessible to those who aren't as proficient with programming and web development. It's pretty easy to use and create content using Wix, but that can also mean a lack of customizability for more advanced users.
The $300 Ad Voucher is extremely beneficial if you are looking to start advertising your website or services you provide from your website. This can more than makeup for just the price of hosting alone. One caveat is that these vouchers can usually only be used once, so if you have used them in the past, they might not work again.
One of the big features that is great about Wix is their integration of email services. Not many other hosting services provide such capability, other hosting services require you to use 3rd party services such as ConvertKit or Mailchimp to email your subscribers.
Finally, what Wix is most known for, the Drag and Drop Website Builder. Wix has a unique feature allowing you to easily build your own website with no coding needed. You simply enter their drag and drop website builder and you can mix and match a variety of different modules to create your very own site. These can easily be customized to fit your exact needs. This feature is by far the biggest selling point Wix has over other website hosting services.
Overall, these features are superb for the entire process of website creation. They allow you to easily create an entire online business. They help you through the entire process of setting up and designing your website, creating an email campaign and advertise your finished website to end users.
Overall Impressions of Bluehost and Wix Capabilities
Again, these sites excel in their own capabilities. But they are far separated in which use cases will benefit from such features.
If you are looking for a website hosting service that will allow you to create multiple websites and easily be able to manage each of these websites, then Bluehost is definitely the better option.
If, on the other hand, you are looking for a web hosting service that will guide you through the entire process of creating a business website, then Wix is the better option.
Bluehost has great features when it comes to creating and maintaining websites, through unlimited bandwidth, storage, and domains. Which is rarely seen in the web hosting field.
Wix has features that shine when it comes to creating the ultimate business website, through a clean and simple drag and drop website builder, unlimited bandwidth, Ad vouchers, and an integrated email campaign service.
Customer Support – Bluehost vs Wix
A huge factor in choosing a great web hosting service is customer support. This is your lifeline for solving any problems that may occur, as well as getting any necessary technical help to guide you through the process of your various projects.
Over the course of many years using both Bluehost and Wix I have come to see that while both services have great customer service, they are oriented for completely different audiences.
Bluehost Customer Support
When it comes to Bluehost's customer support, the have a variety of different options. Customer support is supported through phone, chat, and email. By far the most common and fast method of contacting support with Bluehost is by using their online support chat.
With Bluehost support, they excel at helping their customers through the technical difficulties that arrive when managing websites.
I have had many cases in which I have needed help with such issues and they were taken care of in minutes. At one time in particular, not too long ago, a plugin for WordPress had been exploited to gain access to thousands of websites. Unbeknownst to me, my website had been hijacked through this plugin exploitation and I could not access the website at all. Within just a couple of minutes of contacting their support, they had the issue fixed. They had rolled back the website to an earlier version, found the issue with the plugin exploitation and disabled it.
Although anecdotal, it goes to show their expertise in the technical side of support when it comes to their customer support.
On the not so good side, Bluehost has quite a bit of difficulty when it comes to issues that arise outside of the normal. In a lot of cases, if the issue is not common, or they do not know the cause of reason of the issue, they will fall back on pre-canned responses. They will refer you to documentation which states what "normally" happens in such cases, but will not dig in further to assist with cases they determine to be out of the bounds of normality.
Wix Customer Support
Wix customer support has fewer options for contact. The main options for contacting customer support are through submitting tickets and phone calls. Of which the majority of customer service is done through their ticket system.
Wix excels in helping users with the business side of creating a website. They are more than happy to help you find your way around the drag and drop builder, or how to set up proper email campaigns.
On the other hand, Wix lacks in both technical help and the speed in which they respond to such help requests. As expected with a ticket system, when issues arise, it's much harder to get a concrete solution to the problem in a fast manner. Additionally, when looking for help with the technical aspects of your website, Wix support seems to be more limited in their options.
Which has the best Customer Support
Previously both web hosting solutions excelled in their own ways depending on the target audience. But in this case, Bluehost definitely wins.
Bluehost has much superior customer support in almost all facets. They have a faster response time, more options for contacting support and more availability to help when it comes to technical aspects.
That being said, Wix does outshine Bluehost when it comes to more of the business side of running your website.
Uptime – Bluehost vs Wix
Uptime is a HUGE component when it comes to choosing the proper web hosting service. Having your website go down can impact you in a very bad way. As such, it is very important to make sure that whichever web hosting service you decide to go with, Bluehost or Wix, that they have good uptime.
We have done thorough research on both platforms when it comes to Bluehost and Wix and they both tend to excel in uptime.
Bluehost Uptime
Bluehost has a pretty strong track record on their uptime. They boast about a 99.96% uptime on their website hosting, over the past couple of months.
Wix Uptime
Wix also has a strong track record and boasts about a 99.82% uptime on their hosting services.
Overall Winner
It's tough to call a winner here as they are so close in uptime. When it comes to web hosting services, uptime is such a big factor that most hosts nowadays have over a 99% uptime rating. With both of these services reaching this uptime, it's safe to say that they are both great services when it comes to uptime.
Pricing – Bluehost vs Wix
Finally, we're down to the pricing of both Bluehost vs Wix. Pricing can be a major deciding factor when it comes to deciding which web hosting service will best fit your needs. As such we will be going over the prices of each of the plans sold by both Bluehost and Wix.
Bluehost Pricing
Bluehost has a much more varied pricing structure then Wix, because they have multiple hosting options: Shared, VPS, and Dedicated hosting plans. We'll be covering each of their pricing plans, but for comparison's sake, the closest service to what Wix offers is their Shared Hosting plans.
Shared Hosting Plan Pricing: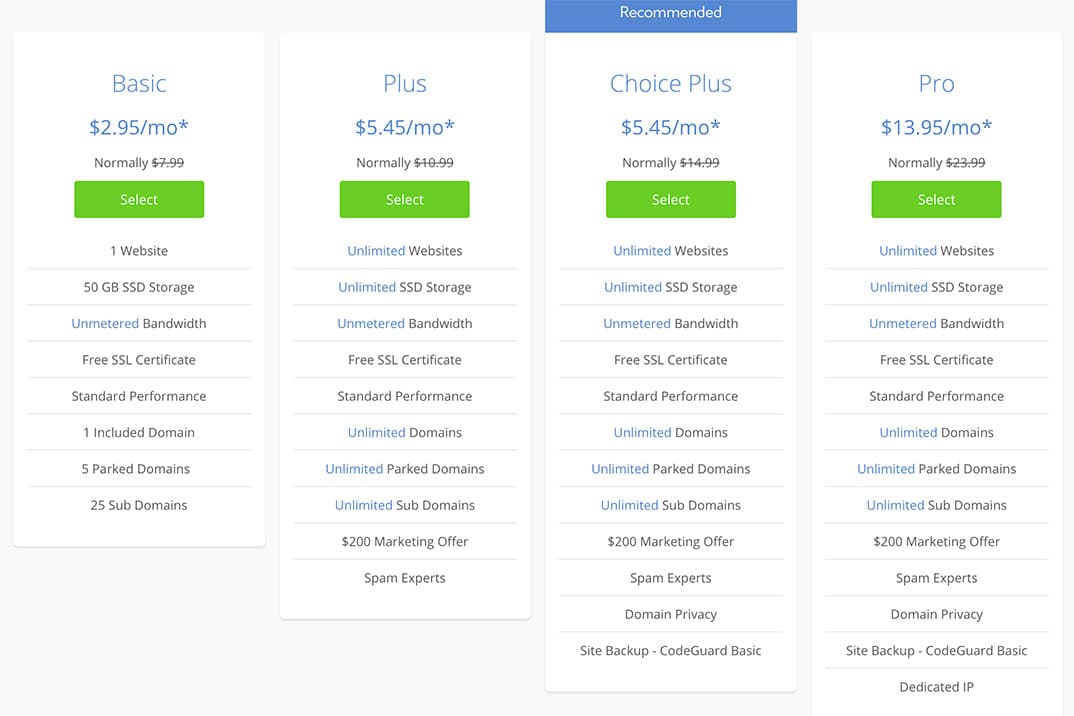 When it comes to pricing, Bluehost separates their bundles into 4 different plans. Basic, Plus, Choice Plus, and Pro are their different plan, each having more features and capabilities than the previous. Throughout the review, we were assuming the usage of the Choice Plus plan, which In my opinion, is their best plan if you are looking for website hosting.
This plan starts at $5.45/mo, but this price can be deceiving because it requires you to purchase a much longer-term plan. To get this pricing you will need to purchase 3 years of their hosting service. So let's dive into what the pricing is per month based on the term length purchase.
3 Year Term – $5.45 per Month
2 Year Term – $7.45 per Month
1 Year Term – $7.95 per Month
Overall, the pricing terms go up about 2 dollars per month if you buy a term that is shorter then 3 years.
Wix Pricing
Wix has a fairly simple pricing structure. They have 2 different sets of plans when it comes to purchasing hosting, Website and Business/Ecommerce.
The average prices on these plans, when choosing the most popular / best value are $19 and $24.
If you are looking for a basic website, then the Pro plan will definitely suit your needs. But if you are looking for a more business-centric website you will definitely want to go with the Unlimited Store plan.
Overall Pricing Bluehost vs Wix
When it comes down to hard facts, Bluehost is a much cheaper website hosting service then Wix. That being said the prices have some quarks that we should go over to make sure you have all the proper information to make your decision.
Wix has a much more premium price tag associated with their hosting service and this comes down to feature integration. Wix comes with a variety of different tools and services that you can use to help grow a business-centric website. This mostly includes the Drag and Drop website builder, the Email Marketing service and their Ad Vouchers.
Bluehost on the other hand, has a much cheaper price tag, for a much more generalized hosting setup. They do not have as many custom features to help you build out your website, but they have a TON of the core necessities for building out a multitude of websites with great infrastructure.
Conclusion, Which is Better?
Now that we have gone over each of the criteria for both Bluehost and Wix, it's time to figure out which service will better fit your needs. Both of these web hosting services excel in many of the criteria mentioned above but are somewhat different in the aspects that they target.
[TL;DR – This will be a conclusion of the research we have done above. Each web hosting service is great for their own particular niche]
Bluehost – Multiple Websites, Fine Tune Control, Easy Management, Cheaper
If you are looking for a great Website hosting service for multiple projects, or for use over a longer time period, then Bluehost is the winner. Bluehost is a more generic website hosting service in that it doesn't have a ton of fancy features like you will find with Wix. Instead, Bluehost focuses on giving you quality hosting through various server enhancements, with a low price tag. Here are the features that will be of great benefit for you, if you are looking for an overall web hosting solution with fine-tune control over multiple websites.
Unlimited Websites
Unlimited Storage
Unlimited Bandwidth
Easy User Interface for management of multiple websites
Easy Integration with content management systems like wordpress
Advanced controls for your entire server (SSH, File Manager, etc.)
Wix – Single Website, Business Focused, No Coding Needed
If you are looking to have a single website and that website is more focused around building a business, then I believe Wix is the definite winner. They have a myriad of features that are great for building out a brand. Here are the features that you will be a great addition if you are looking to build out a website such as this.
Drag and Drop Builder, No coding needed to build your website
Email Marketing Service already integrated
Ad Vouchers to give you a ton of value back on your purchase, and help you promote your business
Hopefully, this comparison of Bluehost vs Wix helped you decide which service will best suit your needs. Feel free to comment below if you have any questions about either hosting service.