In this Niche Pursuits podcast episode, we discover the key themes that made ConvertKit a success. ConvertKit is an email marketing platform started by Nathan Barry, a former designer and author, in 2012.
I reviewed the tool back in 2018 and you can read about my personal experience with ConvertKit here. 
The software is now generating $2.1M monthly revenue, has been listed on the INC 5000 numerous times, and founder Nathan Barry recently invested in an actual Ghost Town. 
Here are the exact numbers if you were curious:
And you can always check their publicly listed numbers on Baremetrics here.
Watch the entire interview with Nathan Barry
How Consistency Leads to Success
So how does a former author build a high-growth software company? 
Show up every day for two years. 
Sean McCabe gave this quote to Nathan that has stuck with him throughout building Convertkit.
Nathan explains it's the two years part of the quote that made the difference for him.  
He would see so many people start projects or companies, never truly to see them all the way through. 
Making an effort to see projects in the long term (at least two years), you start to see a compounding effect on your results. 
Nathan is from Boise, Idaho, a relatively unknown but old school internet marketing community hotspot. Websites like Bodybuilder.com, Click Funnels, ClickBank are all located in Boise. 
Bryan Deluca of BodyBuilding.com was part of the inspiration. Bryan was never distracted by the next new thing. He kept focused on creating BodyBuilding.com. He forwent short-term profits to focus on building for the long term.
Before starting ConverKit, even as a writer, Nathan upheld this mindset of consistency and focus. 
As a writer, he committed to producing 1000 words a day. Nathan finished the book; once completed, he had an 80-day streak of writing. 
There was no way he wanted to break that streak, so he kept writing. At one point, he had a 600-day streak. 
His goal for his book was to sell $10,000 of the whole lifetime of the book. It ended up making $12,000 in the first 24 hours. $19,000 by the end of the first week. 
The second book. $26,000 in the first day and $50,000 by the end of the first month. 
So how did he generate the sales? 
The encouraging part is, at the time, Nathan only had an email list of 800 people. 
With his newfound obsession for email marketing, Nathan built Convertkit. 
TRY CONVERTKIT FREE 1 MONTH
Start growing and monetizing your email list with ConvertKit
Grow your audience by turning casual visitors into subscribers
Build a meaningful relationship with your followers
Monetize with paid products or newsletter
Easy to build landing pages and forms
How Convert Kit Started: The Web App Challenge
The project began as a web app challenge, which Nathan created to publicly document his new project. The requirements of the challenge: 
Within six months, build a web application to $5,000 in recurring revenue. 

He could only spend $5,000 of his own money in the entire process. Meaning any other development work costs would need to come from paying customers. 

He couldn't spend more than 20 hours a week initially on the project. He had other contracts he had to focus on as well. 

Build the project in public for all to see progress. (This is still a focus at ConvertKit to this day. )
Unfortunately, Nathan didn't meet his goal. 
We'll give him a break as the goal was a bit ambitious. 
But he stuck with his plan and kept at it. 
Building Convert Kit in Public
I know first hand about building in public as the start of Niche Pursuits was all about my case studies and sharing results (both good and bad).
Telling the world what you are working on is not easy. Nathan attributes this as one thing that kept Convertkit moving in the right direction. 
Building in public not only kept him accountable but generated help from the community. 
People came out of the woodwork to offer to help. Teton Shaw, who previously founded a ton of successful SaaS companies, and David Hauser, who was running grasshopper at the time, all offered their help.
Nathan would blog about his experiences, and people would jump in and provide advice right there in the comments. 
The first versions
It wasn't always easy for Nathan. By the end of the six months, he was generating $2000 in monthly recurring revenue. An outstanding achievement, but still short of his $5000 goal. 
The first versions of ConvertKit were pretty bare. It was essentially an email collection tool with automated email sequences. 
You couldn't even send an email to all of your subscribers at once with ConvertKit. 
ConvertKit's Biggest Challenges
Getting customers. Initially, Nathan tried to use content marketing to get customers. Content marketing at an early stage software company is hard. It's even more difficult when the software is still early on and needs improvement. 
Nathan was able to solve this by talking to customers. Nathan found that many had no interest in switching from their current Mailchimp or Infusionsoft. 
To solve the problem, Nathan followed the advice of Paul Grahams, do things that don't scale blog article he teaches in YCombinator.
Nathan decided to migrate users to ConvertKit from their existing platforms for free. 
The migration process sometimes took up to 8 hours. At the time, he was charging $50/month.
If you are doing the math, Nathan was making far less than the local fast-food worker.
The compounding effect
By considering that time spent as an investment, Nathan saw growth. Each migration would become more comfortable, sales pitches would get better, and processes became more efficient. 
In November 2020, they onboarded 2329 new customers. There is no way their team could have spent 8 hours migrating all the customers today, but it was by doing things that didn't scale, which allowed ConvertKit to see what mattered to customers.
That's when things started to take off at ConvertKit. 
You've seen compounding effects everywhere. Relationships, fitness, learning, investing, and you see it building a SaaS company. Most people don't keep going long enough actually to see the compound returns. 
It takes years. Think of it like investing. In the first few years of investing, you don't see much compound interest. But after ten years or so, the compound interest becomes significant. 
As the ConvertKit team grew, they stayed focused and consistent. Just as Nathan would initially set goals and challenges, ConvertKit continued to set goals and even showed all their metrics publicly on Baremetrics. 
Growing ConvertKit
In 2018 ConvertKit landed on the Inc 5000 for the first time at 72. In 2019 they ranked 29th on the Inc 5000. 
ConvertKit also has gained customers from some of the largest names and brands in the world. Today they have a total of 33,878 active customers.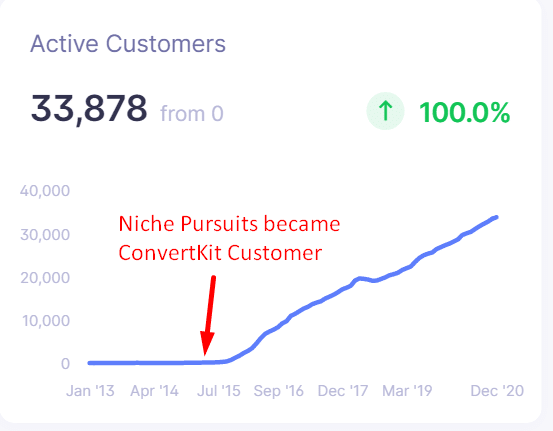 I've sent out 14 million total emails myself alone through ConvertKit.
Nathan admits that he still has some catching up to do to MailChimp, whose revenues are in the $700 million range. But they also had a significant head start. 
By keeping consistent and focused, Nathan believes he can outpace and beat Mailchimp, the current leader in the email marketing industry. 
Monetize Your ConvertKit Emails 
Most recently, ConvertKit has released its product monetization feature. A tool that allows you to monetize your email campaigns with paid products or a paid newsletter. 
Competitors like Substack have entered the market and are gaining a significant share of the paid newsletter market. 
Substack email platform is still small compared to ConvertKit. In comparison, some of the best Substack users have 10,000 subscribers. The best ConvertKit subscribers are well into the 100,000s of thousands if not millions of subscribers. 
Substack Vs ConvertKit
Yes, you can now create a paid newsletter on ConvertKit. Nathan sees the difference between Substack and ConvertKit as Amazon is to Shopify. 
Substack has created an email platform similar to Amazon with end to end solutions but with limited customization. You can't even change the Substack branding. 
ConvertKit, on the other hand, is building with more of a Shopify mentality. A simple platform to use, but with the ability to customize as you see fit. 
Other Email Marketing Platforms stacked up against ConvertKit
How has life changed for Nathan Barry?
Looking back, the $5,000 limit he gave himself on starting a company seems small. Nathan admitted today, "$10,000-$20,000 is now kind of a rounding error in a budget". 
He still is continuing to stay focused on building ConvertKit, and his writing remains consistent. The goal to write everyday remains. Although he no longer has the 1000 word requirement.  
Even though he's focused on building a great company doesn't mean he can't have a little fun. 
Buying a Ghost Town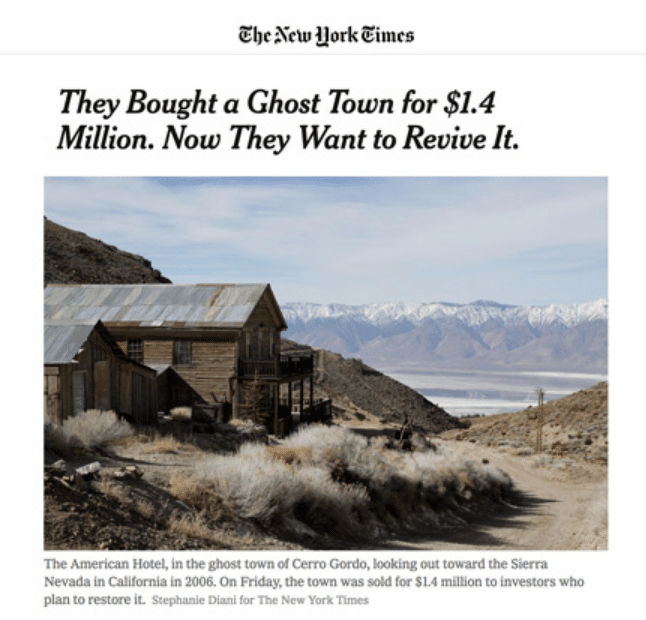 Alongside Brent Underwood and Ryan Holiday, who runs the site Daily Stoic, a popular email newsletter on ConvertKit," Nathan invested in a literal Ghost Town. 
Cerro Gordo has since been featured on just about every major news outlet and travel blog. It's now a popular destination with an incredible history. 
Nathan says that while it was an investment, ultimately, it just sounded like a lot of fun to own a ghost town. 
You can read about his ghost town here. 
Try ConvertKit
I've been using Convert Kit for several years now for Niche Pursuits, Link Whisper, and other businesses.  I've been very happy with the product and the support team is excellent.
If you'd like to try out ConvertKit for free, you can manage up to 1,000 subscribers for free here.
If you want to start a paid newsletter, you can now start on ConvertKit. They recently announced their "commerce" package which allows you to sell digital products directly through ConvertKit, and this includes paid newsletters.  You can try out ConvertKit Commerce here.
Or if you already have an existing email list of over 1,000 and you'd like to give ConvertKit a try, you can get a 14 day free trial right here.
Overall, I hope you enjoyed hearing the success story of Nathan Barry and ConvertKit!