We're losing PPC ad data.
While it used to show you almost all terms, Google AdWords now only offers specific keywords that meet a certain volume threshold. General Data Protection Regulation (GDPR) has limited data from European traffic, and more restrictions could be on the way.
This lack of visibility makes it harder to know what's working and what's not in PPC. Whether you're seeking increased conversions, more organic traffic, or a surge in referrals, it's your PPC data that should tell you if you're on track or if you need to adapt.
How can you navigate these limitations and overcome limited data?
Doing More With Less: How to Cope With Google's Changing Data Transparency
More than 80% of U.S. consumers are worried about sharing their data. The EU has passed stringent laws regarding what information websites can gather—and what they can do with that data.
When you consider this, it's easy to understand why Google and other organizations restrict data access.
The problem is that data is crucial to understanding how effective your PPC and SEO campaigns are.
What terms drew in the most users? Where are people finding your website? These answers are a lot less evident today than they were in the past.
So what do you do? Throw in the towel, give up on PPC ads?
I mean, you could.
Or, you could adapt to the new normal and find ways to work around the current restrictions.
Here's the thing—PPC ad data is going to get less clear over time. You could wait, use what you have now, and hope for the best.
You could also figure out workarounds that help now so you are in a better position in the months (and years) to come.
Today, I'll share several methods that could help you find the data you need for effective targeting and potentially make up for the shortfall in information left by PPC ad data restrictions.
Use Tools to Pull More Data
Google wants to give you less data—but they aren't the only sheriff in town. There are plenty of other places to find PPC data. You just have to dig a bit.  
Here are a few tools where you can get your hands on more data, including a few of their top features and the data you'll find.
Ubersuggest
If you need reliable keyword data, our Ubersuggest platform is an all-in-one tool allowing you to research individual keywords, track competitors, and adjust your PPC strategy accordingly.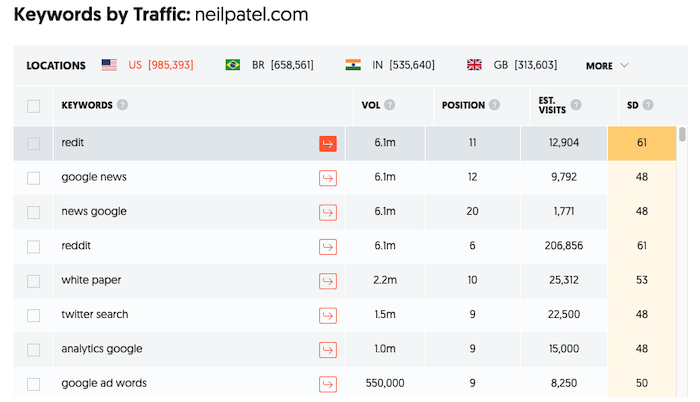 Here's how to use Ubersuggest to uncover PPC data.
Head over to Ubersuggest and enter your URL, a competitor, or a keyword you want to research. For this example, we're going to use the term "PPC data."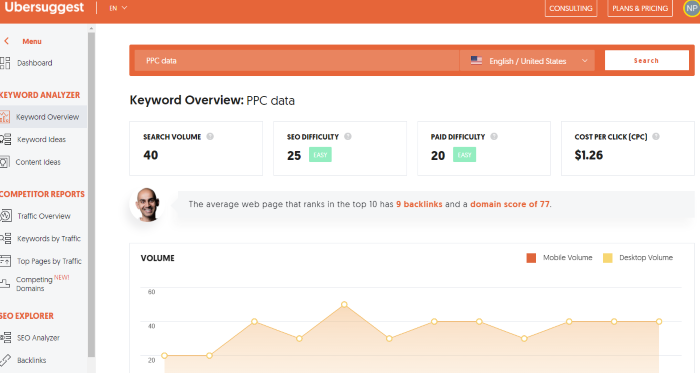 Take a look at the left sidebar. You'll see Keyword Overview, Keyword Ideas, Content Ideas, competitor reports, and SEO Explorer.
We're going to start with the keyword ideas.
Ubersuggest offers 36 keyword ideas, 18 related terms, and questions, which we could use in SEO or maybe address in our ads — those might be key pain points.
Focus on a specific term, and you'll see search volume, cost per click, paid difficulty, and SEO difficulty.
As you can see, PPC data has a pretty low search volume, CPC volume, and paid difficulty. That's likely because people searching "what is PPC data" are unlikely to convert—it's not an ideal term for paid ads.
But, if you saw this same data for a high intent key term, like "buy SEO course," it would indicate a great opportunity.
Other features Ubersuggest offers include:
Top SEO pages reports
Domain overviews
Backlink data
Content ideas
Individual plans start at just $29 a month, but you can see limited data for free.  
SpyFu
SpyFu is an Arizona-based search analytics company founded in 2005. So, they've been around the block a few times. For $33 a month, you can access unlimited SEO and PPC data, keyword research, and competitive analysis tools.
The competitive analysis feature is their core offering, and it's worth the cost on its own.
This tool will help you see what types of pages your competitors rank with, where they've lost ranking, what today's top keywords are, and more.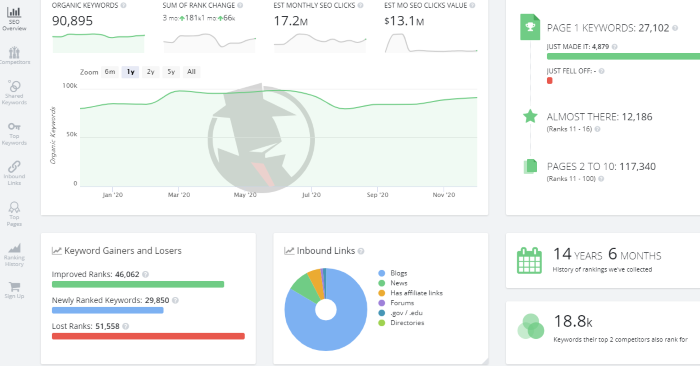 This data is useful data for SEO, but it can also help guide your PPC campaign. And they have a lot of other features that are useful for PPC, including:
Most successful paid keywords
Adword history
Top AdWords buy recommendations
PPC keyword grouper
Ad history and ad templates
PPC keyword research and suggestions  
Google Trends
You might think of Google Trends for looking up ideas for blog posts, but it can be used for PPC information as well. Google Trends analyzes the top search queries across geographical areas—and over time.  
Want to know what people in Florida were searching for in October 2020? Google Trends will tell you.
However, you may not be so familiar with it as a PPC tool.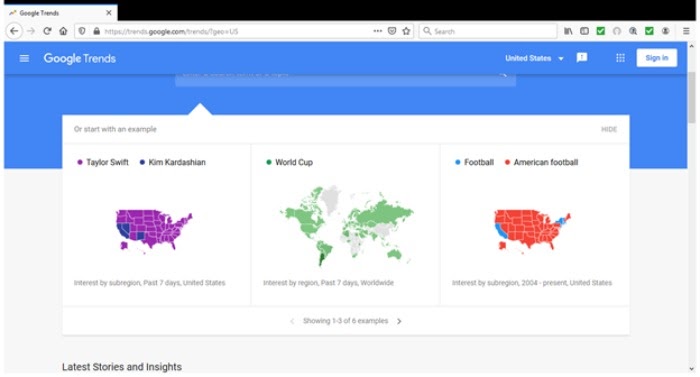 With Google Trends, you can identify:
Valuable PPC keywords
Historic popularity
Keyword search trends
You can use Google trends for keyword expansion by finding key terms related to those you're already using. Then, use those terms in your A/B testing or to improve relevancy.

Another area wherein Google Trends comes to the rescue is budgeting. You can compare year over year search volume and see monthly or seasonal spikes in interest for key terms, then appropriately adjust your ad budget.
For example, searches for "gift guides" tend to peak in December. It wouldn't make much sense to dump a ton of ad budget on ads promoting a gift guide in June.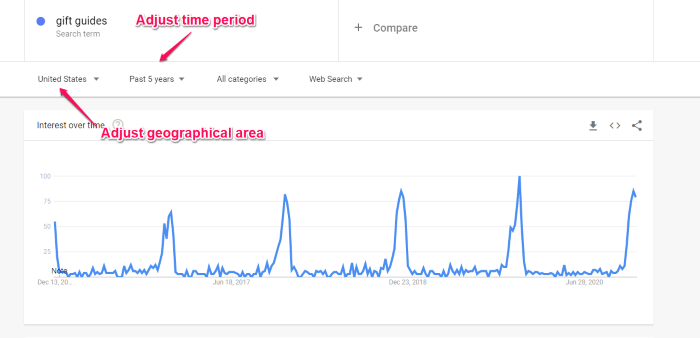 Google Trends is also an excellent resource for geographical targeting, as you can see the exact terms people use in specific areas. For example, terms like "pool cleaning" are likely to be more prevalent in Florida and Arizona than in Alaska.
Geographical areas can impact words used when searching for specific things. For instance, people in New England might use a different word to talk about carbonated beverages than people in Georgia. 
AdWords Grader Plus
The free tool from WordStream allows you to compare how well your ads are performing against competitors.
WordStream analyzed over $3 million in Google Ads spend to set benchmarks and find the most accurate KPIs out there.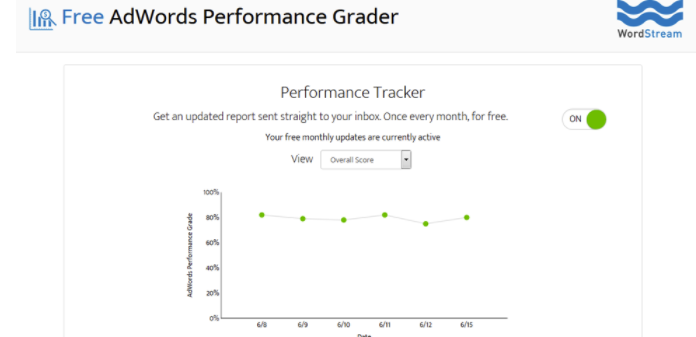 It also provides a "Performance Tracker," which tracks and measures your Google Ads performance over time so you can see which metrics are going up—and which are going down.  
Additional features include:
PPC Mobile Readiness Score
Quality Score tracking
Tracking and calculating wasted PPC spend
The best part is that this PPC audit is free, and you can have it in your hands in about five minutes.
Follow Search Query Patterns Instead of Individual Search Terms
As a marketer, you are likely familiar with individual search terms. However, Google's announcement may mean it's best to emphasize search queries.
What's the difference? Rather than focusing on a single word, you'll want to concentrate on patterns or real-world queries from searchers. Then base your ads around them.
How is this different from long-tail key terms? Long-tail keywords are phrases that include key terms, like "buy warm running socks."
Search query patterns go a step further by helping you find the underlying reasons why people are performing those searches so you can use that same language in your ads.
If we type "warm running socks" into Ubersuggest, here's what we get:
What do those searches tell you? People are looking to keep their feet warm while running. That's the search query pattern.
As Kacie Gaudiose of Search Engine Journal writes, search query patterns can help to:
Highlight trends
Discover new search behavior nuances
Assess opportunities in your chosen category
Better understand intent
Gaudiose adds:
From those patterns, we can further categorize our queries into buckets of interests specific to our target users…With enough data, this categorization helps us create detailed topics and subtopics that we know interest in our searchers.
Get the Most Out of Imperfect Data
You might have heard the term "imperfect data" before. However, perhaps you're not sure of the exact definition. It's data that isn't perfect, right? Sure—but it goes a bit deeper.
Here's a definition from data scientist Lewis Beischer:
Imperfect data is a generic problem in which the information extraction and decision making is a very difficult task as that particular datasets have faults and is not exactly as you would like it to be.
Common imperfections can include:
Incomplete data sets
Corrupt data
Biased information
A lack of stability
Fraudulent data
This probably sounds pretty familiar. So what do you do about it?
The first thing to remember is there's no such thing as perfect data.
Beischer suggests the keys to overcoming imperfect data are:
Monitoring errors
Standardizing your processes
Validating accuracy
Using a third party to analyze, clean, and compile data
Introducing machine learning
In the PPC world, that means aggregating data from several tools, deleting any duplicate data, and watching for patterns. (Pivot tables are your friend here.) How does your performance change over time? How do search volumes impact your costs per click?
Imperfect data is here to stay. It's up to you whether you dig into the data and learn how to make it work or just guess at what might work. (And waste thousands of dollars until you figure it out.)  
Modifying Your Reports
Although you've got decreased PPC ad data visibility, you can still tweak your Google search terms report to better suit your needs. This enables you to determine which search terms triggered your advertisements.
You can access this feature in your Google Ads dashboard. Click on Reports, then select Predefined reports (Dimensions) > Basic > Search Terms.

 Then you can see a bit more detail:
Understanding and Using Google's "Quality Score" Metric
As Brad Smith makes clear in a Hootsuite post, Google's Quality Score is vital to marketers, as it:
Increases ad rankings
Lower cost-per-clicks (CPCs)
Reduces cost per action
But what is it exactly? In Google's own words, Quality Score is:
"An estimate of the quality of your ads, keywords, and landing pages. Higher quality ads can lead to lower prices and better ad positions."
Google rates your Quality Score between one and ten. There are three factors to Google's Quality Score:
Relevance
Landing page experience
Predicted click-through rate
Improving Quality Score = better optimized PPC campaigns. Now, I could write an entire post about how to improve your quality score (and I did), but here are a few tips to get you started:
Boost your mobile performance
Leverage A/B testing on titles, images, and copy—but only one at a time
Optimize landing pages and make sure they use the same language as your ads.
Conclusion
Limited data is nothing new. We've been dealing with this way back since Google rolled out the "Not Provided." The question is no longer "how can I replace this data?" but "how can I work around the increasingly limited amount of data at my disposal?"
Consumers' concerns over data privacy remain high, and governments worldwide are locking down marketers' access to a ton of data we've relied on over the years.
So, what are you going to do about it?
The methods above can help overcome the gaps in PPC ad data and create targeted campaigns to keep those conversions coming in.
How has restricted PPC ad data affected your campaigns? What strategies are you using to replace that data?