First of all, I would like to commend you on your tremendous Googling skills today! You likely landed here because you were searching for something related to how to start a blog.
What you are about to read below, is what I believe to be the most accurate and thorough guide to starting a blog on this planet (there might be something better on Mars, but I haven't checked lately).
To begin, let me introduce myself: , and I also have a small confession to make.  I have started over 200 blogs or websites in the past and I've had some tremendous success, but I've also had some depressing failures (trust me, you don't want to know what a "Google slap" is…or feels like).
Let me clear something up real quick in case your head is spinning from my "200 blogs" comment.  I don't recommend that you do that!  I created most of these back in 2008 to 2010 where I was conducting some "experiments". Most of these sites no longer exist…BUT I learned a ton of valuable lessons that I would like to pass on to you today.
Lesson 1, don't create 200 blogs :).  You are going to be much better off (and probably even make more money) if you focus on just one blog to start.
Way back in 2006, I started my very first blog.  I honestly had NO idea what I was doing.  Luckily I stumbled through the process after hours and hours of research and I finally figured it out!
Since that time, I've created several successful blogs (not counting the 200 failures), including this one that you are reading right now.  In this in-depth guide, I'm going to share with you exactly how to start a blog using the WordPress platform.
I'm not only going to share the steps with you, but I'll also be sharing how to make your blog a success from the very beginning – even if you have zero experience.
In addition, once I've shown you exactly (with images and videos below) how to set up your blog, I'm also going to share several examples of blogs that are doing really well.  This will allow you to see some of the strategies they are using (and I'll point out exactly what you should be looking at) and how you might be able to apply these to your own blog.
So go ahead and grab your favorite beverage, turn off your distractions, and get ready to focus.  What you are about to read is in-depth, educational, and I hope will give you exactly what you need to start your first blog from scratch.
---
What is the Purpose of Your Blog?
Before you start on any of the technical steps of how to get a blog up and running, I think it's worth taking a big picture look at what the purpose of your blog is.
This first step may seem simple, but it's actually quite critical.
I think of it like the time my wife asked me to pick up pepper from the grocery store.  I came back with the pepper you shake on your food, when in reality she wanted "a pepper"…you know the green or red vegetable.

A simple misunderstanding of what your pepper blog is for, can lead to some awkward moments with your wife future self.
Are you just blogging for fun?  Or do you hope that perhaps someday your blog will make some money?
If you want to make money from your blog, or if you simply want to leave the door open to the idea of your blog making money, then you should consider a few things first.  You need to determine if the blogging platform you are using allows you to make money (some don't).
You also need to think about if there is any interest in the topic that you want to blog about.  (If you are just blogging for fun, then it really doesn't matter).
I'm going to cover all of these topics in-depth.
But for now, just determine if the idea of making an income from your blog sounds like a good idea.  If so, move onto the next steps.
---
Decide What to Blog About: What is Your Blogging Passion?
Ah, finding your passion.  This can be a deep question.  I sometimes get passionate about for Reese's peanut butter cups, but I then change my mind when I wake up the day after my peanut butter cup binge session with a stomach ache.
You need to pick something that you will care about longer than the next day, week, or even year.  You should shoot for something that you believe you will still be interested in learning about or making a impact on, in even a couple years from now or longer.
Perhaps you are lucky and already know exactly what you want to blog about.  If so, congrats! You can move onto the next step.
However, for many people, it can be tough to know exactly what they want to blog about.  Should you start a food blog, a fashion blog, or cover some other topic?
One thing to realize, is that you know yourself best.  You will know what is the best topic for your blog.  However, it might just take a little bit of digging for you to come to that realization.
I know the purpose of this guide isn't necessarily to help you find your perfect blogging topic; however, this really is a critical step!  So, I have some very short steps that you can follow to home in on the best topic for you.
If you can find a topic that has some crossover in the 3 areas below, you will have found your perfect topic:
What do you love doing?
What are you good at?
What can you make money doing?
I would suggest writing down 10 topics for each of those questions.  Do you see any crossover of things that you are both interested in AND good at?  If so, this could be the sweet spot for your blog.
If you are going to start a blog that actually gets an audience, you should probably determine if anyone is interested in your topic before you pull the trigger and set up a blog (which I will get shortly).
For example, I once started a website on the subject of fleece ferret hammocks (I'm serious, I wouldn't joke about something like this!).  Turns out after only writing a couple of articles, I ran out of subject matter…and well, there wasn't a huge audience of people interested in the latest design fads of ferret hammocks.
Don't make that mistake by spending hours and hours of time on a project, only to determine six months later that no one really cares.
A free tool that I really like to use to see the interest levels in certain subjects is going up or down is Google Trends.  This awesome tool shows you whether more or less people are searching for a certain subject.
For now, I would only look at general topics to use Google trends for.  For example, if you are thinking of starting a blog about running marathons, you might search "marathons".  I wouldn't get super specific in Google trends and look at something like, "will my toenails fall off if I run a marathon" (the answer is…maybe…by the way).
That might be a great subject to write about, but probably not the best way to decide if you should blog about running marathons in general.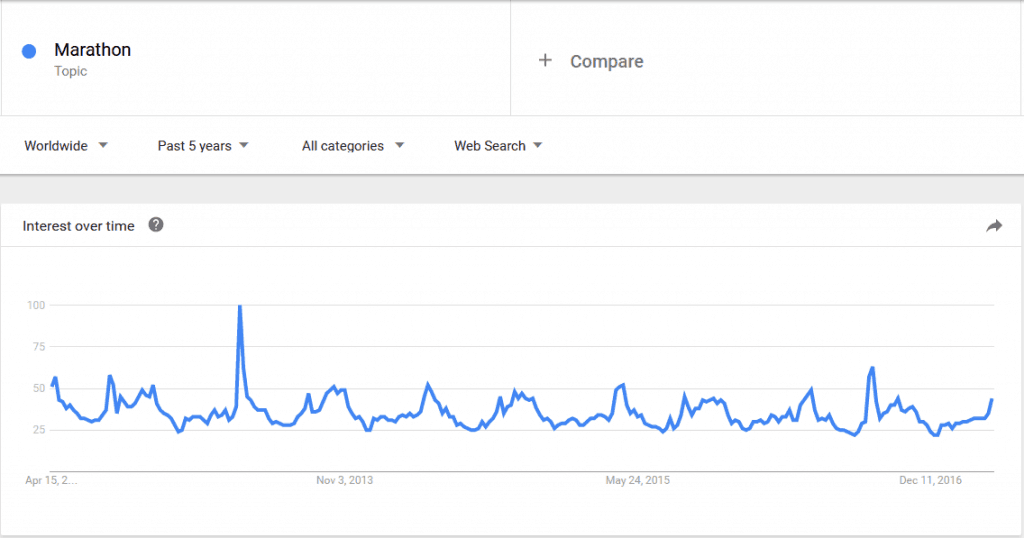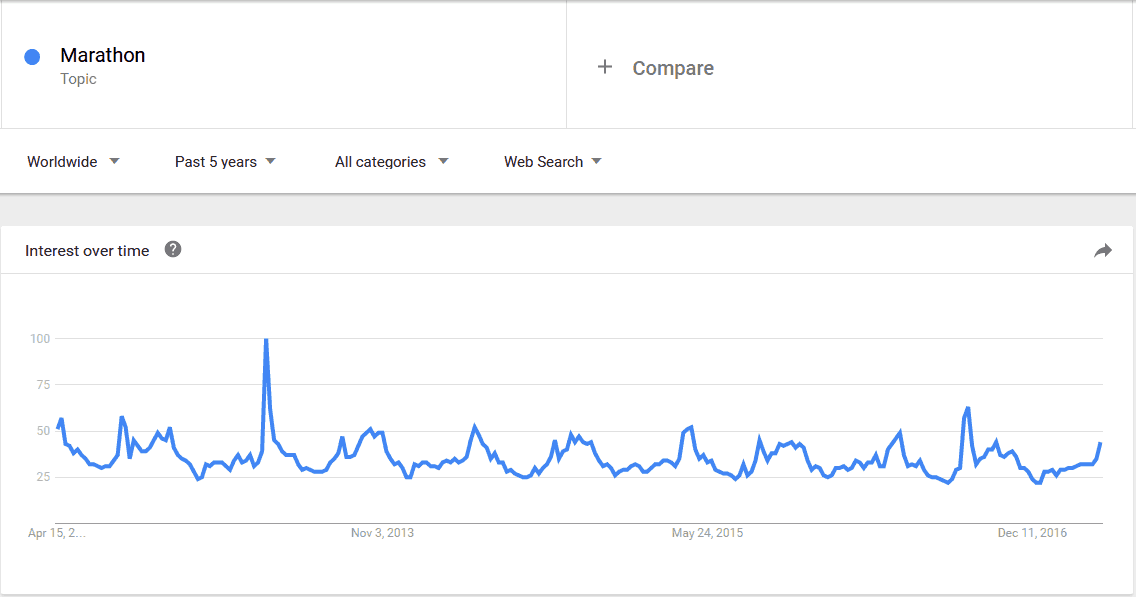 As you can see, the interest in Marathons has been fairly steady over the years.  Yes, there is some seasonality, but overall, this interest remains in this topic.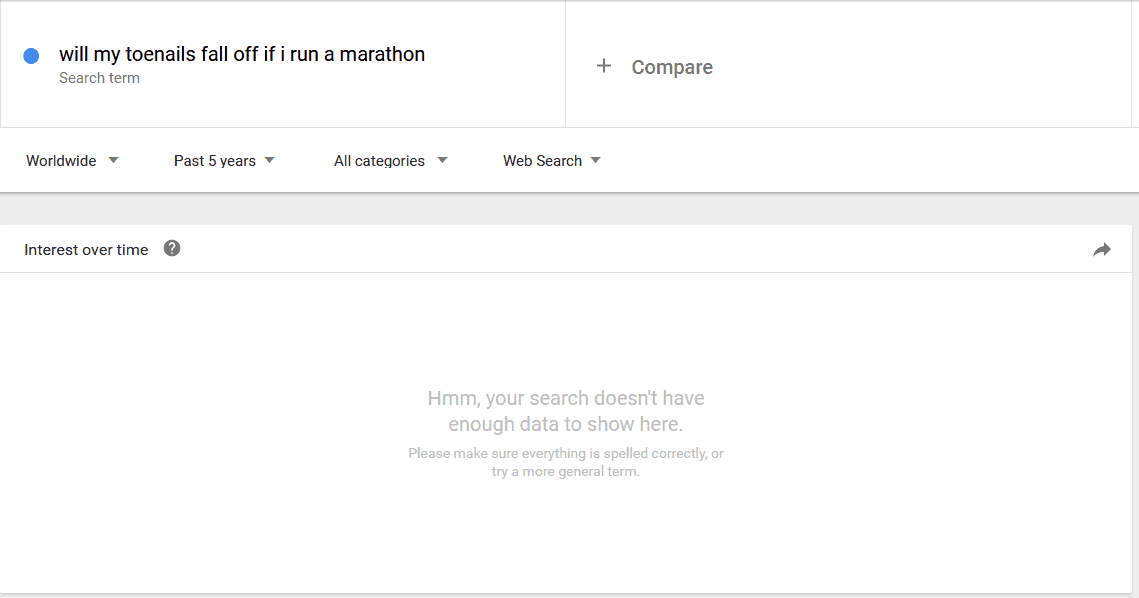 The subject about toenails doesn't seem to get searched for too often, you probably don't want this to be the entire focus of your new site!
If you see the trend in your topic going down, you don't necessarily need to panic.  Yes, this is a factor.  However, it doesn't mean that no one is interested in it any more.
For example, the interest in the topic "Fashion Design" appears to be trending down just slightly over the last few years.  However, I don't see any sharp drop-off, and I'm sure people will be interested in this subject for many years to come.
Where Google Trends gets really powerful is when you start comparing two topics against each other.  For example, what if you are passionate about (and really good at!) physical fitness AND fashion design?
If you just can't decide between the 2 topics, maybe it would be helpful to know that more people appear to be searching on the topic of physical fitness when compared to fashion design.  Here's what Google trends has to share: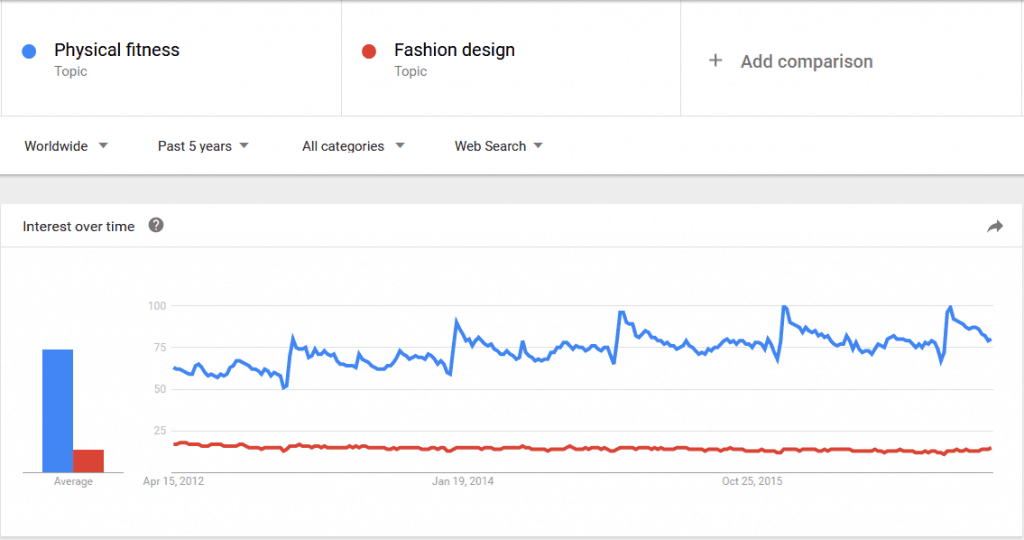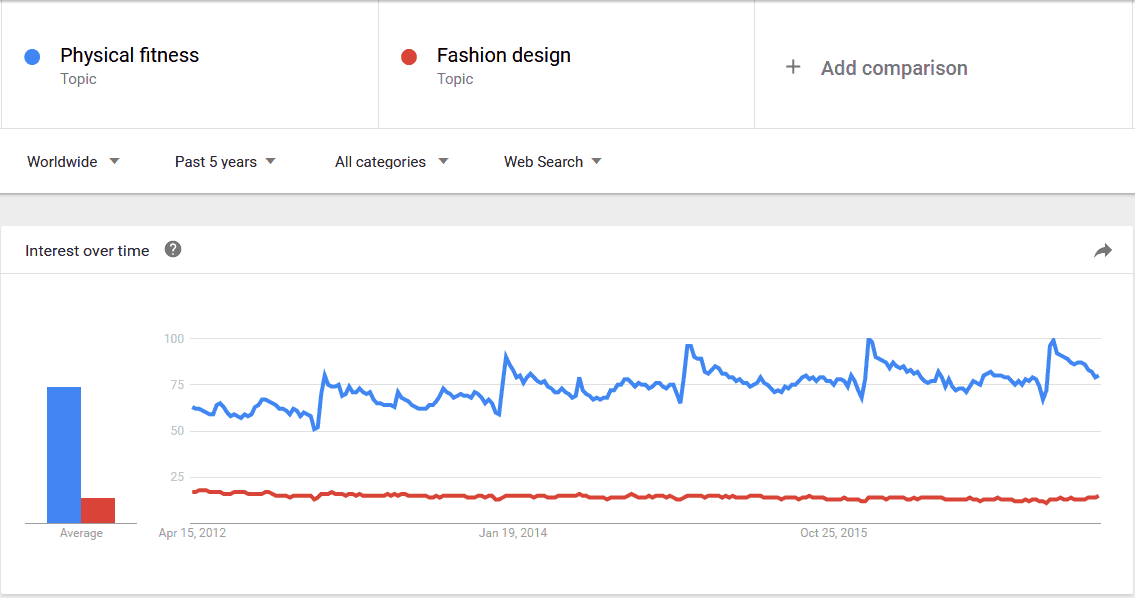 So, not only do topics related to physical fitness get searched for significantly more when compared to fashion design, but the trend appears to be going up, while there is slight downward trend for fashion design.
WordPress: an Easy-to-Use Blogging Platform
Now that you've determined the purpose and topic of your blog, you can finally get to the steps of actually setting up your blog!
If you do some searching around for blog platforms, you will see that there are dozens of different options, all with their pros and cons.  I personally don't want to see you spending several hours and having a bunch of headaches searching out and trying a bunch of different blog platforms.
That's why I'm going to recommend that you use the one that I use for all of my sites, WordPress.
The blog you are reading right now is powered by WordPress.  The best part is that WordPress is free!
However, not only is it free to use, it's also highly powerful.  There are plenty of beginner blogs using WordPress.  However, there are also tons of really advanced websites using WordPress as well.
Sites like CNN.com and the NewYorkTimes.com are also powered by WordPress as well!  In other words, no matter how small you start or how big your blog becomes, using WordPress as your platform is a great way to go.
It's highly scale-able and does everything you will need.  One of the things that makes WordPress so powerful is that there is an army of independent developers that creates tools (called WordPress Plugins) that you can add to your blog to make it do certain things.
I don't want to get too far into the weeds with all the different Plugins that are available on WordPress, I will simply say that you can pretty much do anything you've even seen done on a website with WordPress.  I highly recommend it.
I will show you exactly how to get started using WordPress in a minute, we first have to take care of a couple of things.
And just as a clarification, you do NOT want to use WordPress.com, so don't go there and set up a free blog.  For your blog, you will want the "self-hosted" version of WordPress.  I'll show you exactly how to get that and set it up properly (in a matter of a couple of minutes) below.
Choosing Your Domain Name & Brand
You can think of your domain name as your brand.  For example, the domain name of my blog here is NichePursuits.com.
Other domain names you are likely familiar with are:
Amazon.com
Google.com
Ebay.com
So, do you want your domain name to be your personal name or something that sounds catchy?  This is a decision that you need to make before you can get your blog moving along.
I would recommend going with something that people can remember, is relatively easy to spell, and is a .com.  Now, a .com is not required, but in my opinion it's always ideal.
In addition, I would try to keep your domain name between 1 and 3 words long.  Anything longer tends to become too long and difficult to remember.
For example, if I was going to start a marathon blog, I might go with something somewhat personal like MarathonSpencer.com.  Or maybe more business sounding like MarathonBoost.com
Or if you are still stuck, you can use some creativity tools like Panabee.com or NameMesh.com to help you come up with unique domain name ideas.
Currently, Bluehost is running a special offer where you can get a domain name for FREE if you sign up for a hosting account.  You need to get a hosting account anyway, so you might as well consider getting your domain name for free from Bluehost.
---
How to Start a Blog: Setting up Hosting
In order to take your idea from domain name to actual website, you need to have a hosting plan.  Basically, a website "host" is just computer/server space that you can rent on a monthly basis from an online company.
You need to have your website computer files stored on a server that makes it easy for others to access online.  And honestly, that's about all you need to know to get your first website up and running.
Bottom line, you need to set up a hosting plan in order to have your WordPress site up and running.
Luckily, this is SUPER easy to do and only costs a few dollars a month.  You don't need any technical skills, because I'll show you exactly what you need to do…step by step.
Pick a Hosting Plan
I recommend that you go with Bluehost.  I've been using Bluehost ever since I built my first website back in 2006.  I've been happy with them every step along the way.
You can sign up for Bluehost and get a Free Domain Name right here
Why Bluehost?
Well, first of all they are really cheap.  For just a few dollars a month you can be up and running with a fully active and professional website.
Second, they are reliable.  This is a company that has been around for years and they host millions of websites.  Your website is not going to disappear overnight because the company goes away.  Bluehost is not going anywhere.
Third, their customer support is outstanding.  You can do a live chat, email, or call a customer support rep on the phone to get your questions answered quickly (if you need to).
Finally, you can host multiple domains on one hosting account!  So, let's say I start MarathonBoost.com, but then I decide I also want to start a second website called SpencersCrazyWebsite.com.  Well, with Bluehost I can.  You don't have to buy a second hosting account.  For the exact same monthly price, I can host dozens of websites.
If you decide to sign up for a Bluehost account today, here are the exact steps that you will follow:
Step 1: Go to Bluehost, then click the "Get Started Now" button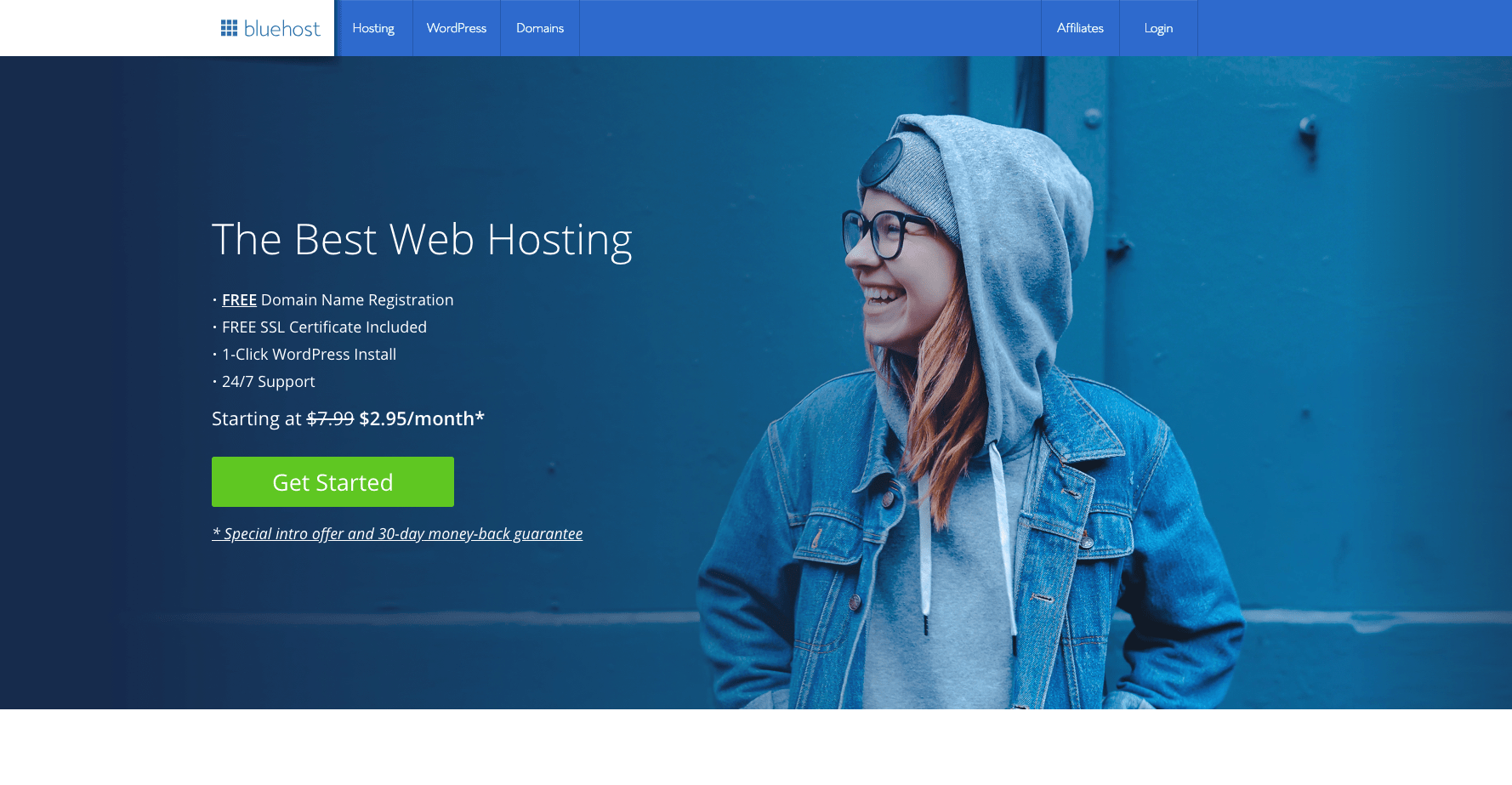 2. Select Your Plan
Any of the plans will do; however, if you are just getting started then the Basic is all you need.  You get a free domain name, no matter what plan you choose.  And you can always upgrade your plan later if you choose the Basic plan.
3. Input a New Domain or Input Existing Domain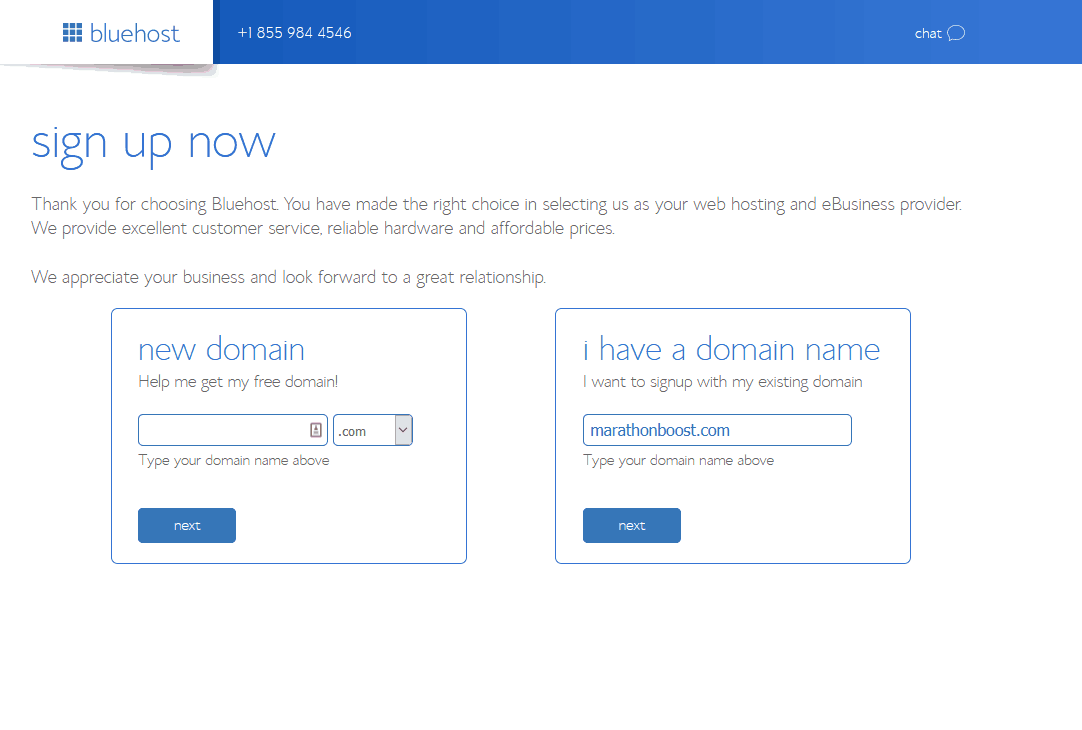 If you don't have a domain name yet, you get one free on Bluehost!  So, simply input the domain name that you want where it says "new domain".  If you already own a domain name, then input the domain you would like on your bluehost account where it says, "I have a domain name".
Since I purchased MarathonBoost.com on Namecheap, I input the domain where it says, "I have a domain name".
4. Create Your Account, Input basic details.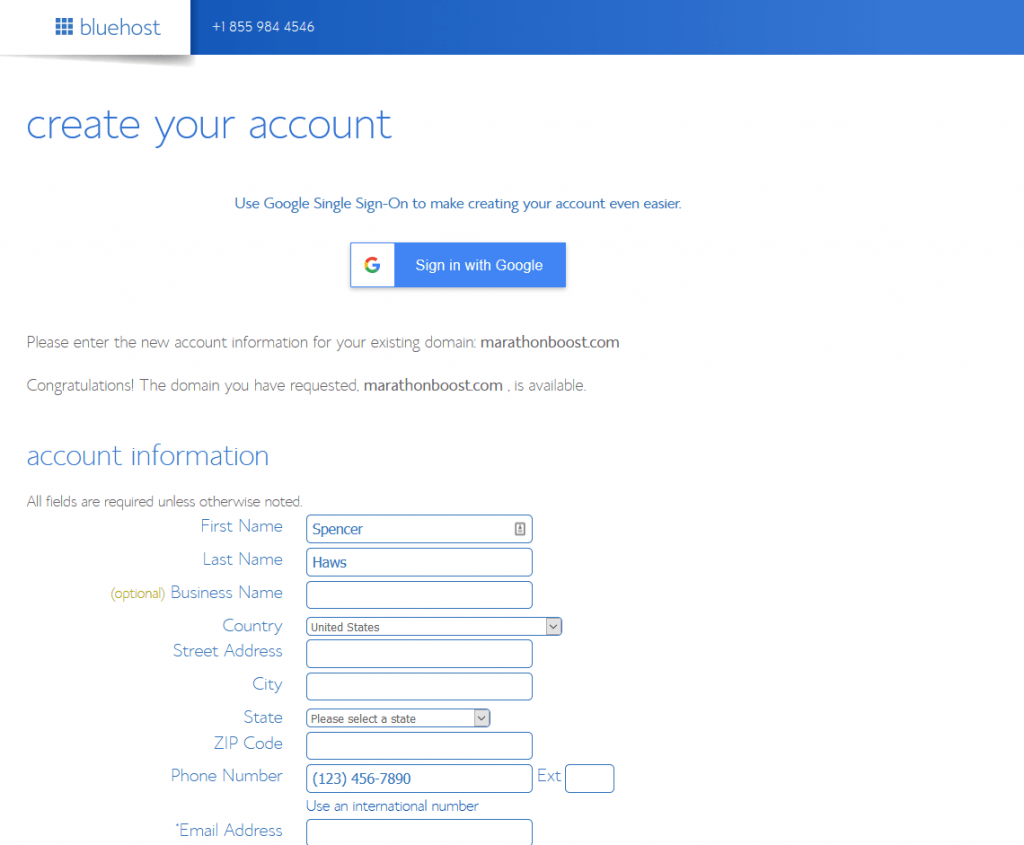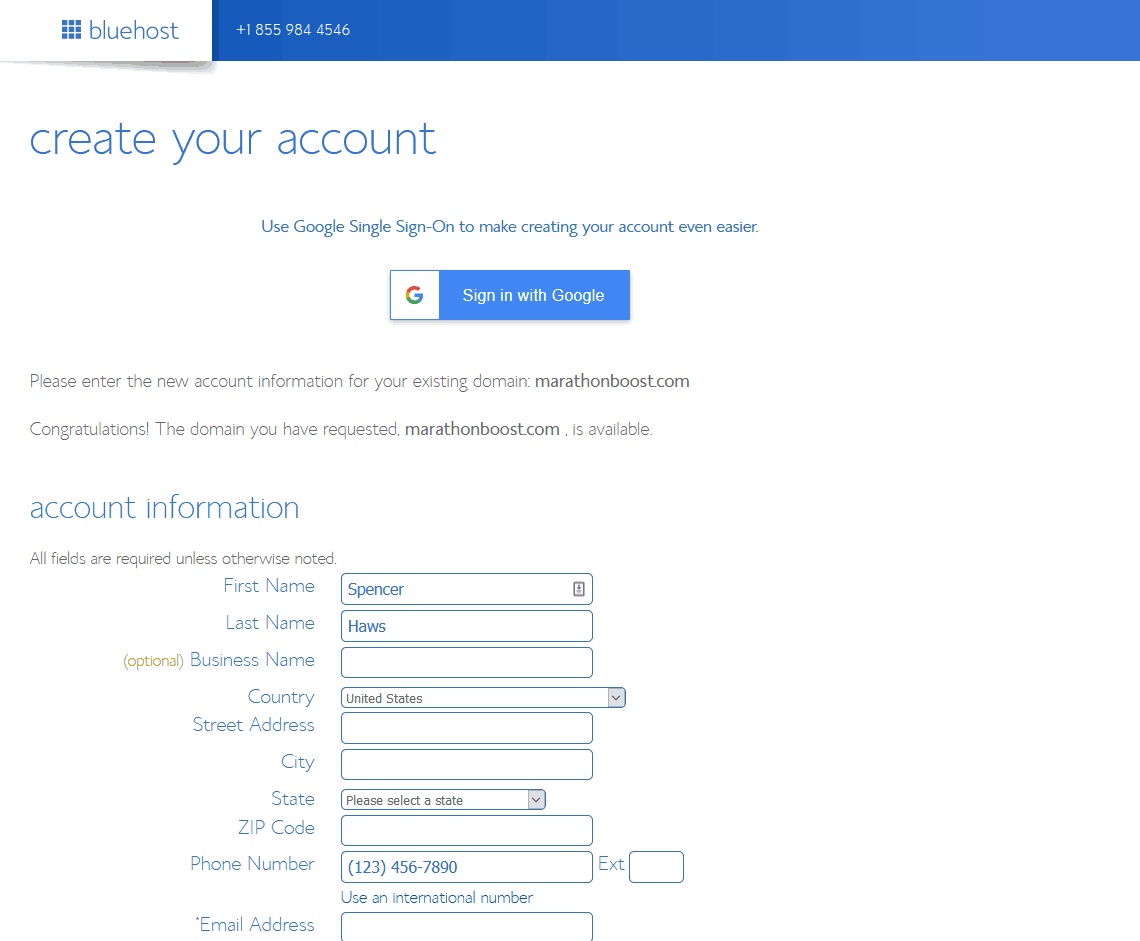 5. Select Package Information (Important: You Might Want to Change Some of the Default Selections)
If you quickly scroll through the checkout process on Bluehost, you might miss this important section for selection your package information.
As you can see from the screenshot below, if you leave all the default selections, you will agree to pay $201.96 at checkout.  This might be a bit more than you were expecting if you just wanted $3.95 per month.
As a result, I recommend that you uncheck a couple of boxes to reduce the upfront cost.
You don't need the "Site Backup Pro" or the "SiteLock Security".  I never use these on my websites, and I've been blogging for years.
Finally, you can select a 12 month plan instead of the default 36 month plan.  Now you just have to pay 12 months in advance, instead of 3 years in advance which significantly reduces your up-front cost. You are welcome!
Notice the screenshot below, which shows that you can take your total price at checkout from $201.96, all the way down to $65.40.  That sounds much better to me!
6. Congratulations, Now You Can Login!
Once input your basic information, select your options, and hit the purchase button, you are ready to start using your Bluehost account.  Congrats!
You will get welcome/confirmation emails from Bluehost, letting you know that your purchase was completed and how you can login.
Step 2: Add Your Domain Name To Your Hosting Plan
Now, you can actually buy your domain name directly through Bluehost when you purchase your hosting plan.  This is a pretty ideal way to go.
So, if you go to Bluehost and buy hosting, they will ask for your new domain name through the purchase process.  In fact, you get a FREE domain name when you buy a Bluehost plan, so this saves you some money as well!
If you do that, you don't need to set up any nameservers for your domain and you can skip this step!
However, if you already have a domain name OR you just prefer to use a 3rd party domain registrar such as GoDaddy.com or NameCheap.com, your website will still work with Bluehost…no problem!
This is the most "technical" step you will need to follow if you did not buy your domain name through Bluehost.
So, let's take a look at a NameCheap.com example.  (I personally buy most of my domains through NameCheap).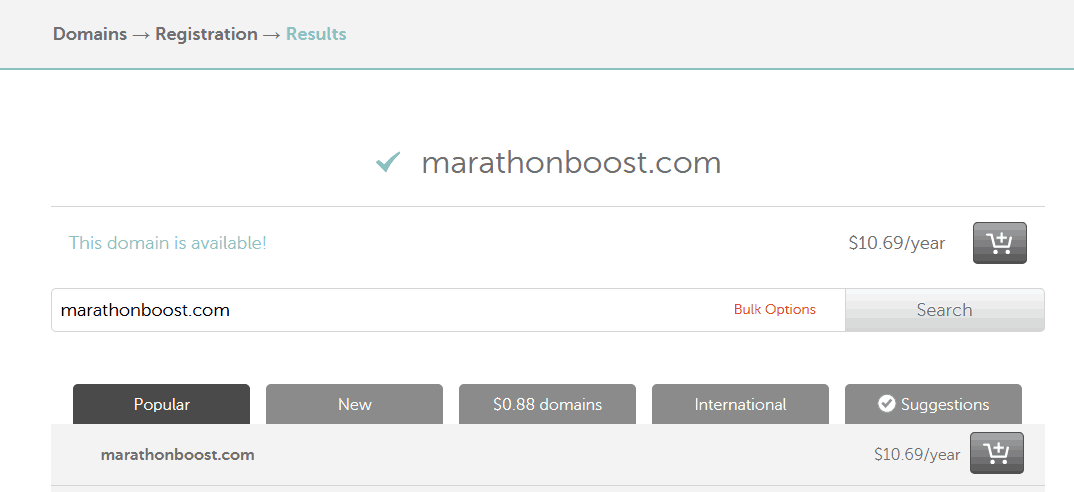 The general idea here is that you need to "point" your domain name to your correct hosting plan.  Once your domain is pointed in the right direction, your hosting plan will be all set to get your website up and running.
The way to "point" your domain to your hosting plan is by changing your nameservers.
If you have a Name Cheap account, here's how to do it:
Log into your account, click "Domain List", then click "Manage".  At that point you simply find where it says "Nameservers", and select "Custom DNS".  Now you simply input your nameservers (which in the case of Bluehost is always going to be ns1.bluehost.com and ns2.bluehost.com.
That's it!
Here's an image that will show you what that looks like on Namecheap: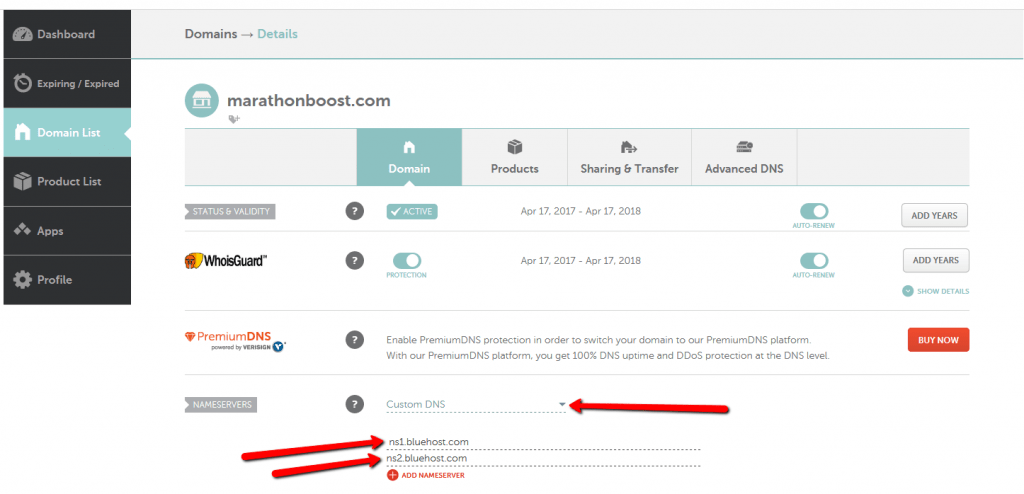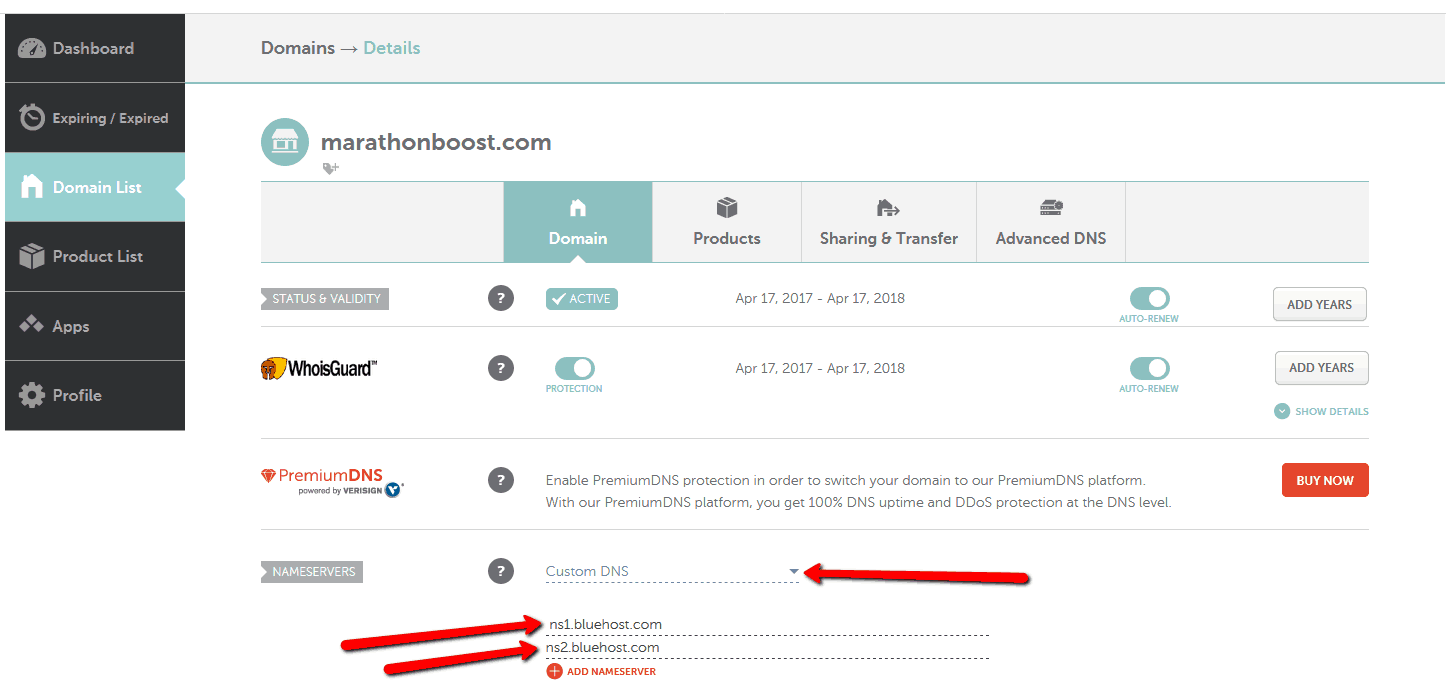 If you bought your domain from somewhere outside of Bluehost, you will need to add the domain to your Bluehost account.  You just changed Nameservers by following the steps above.  Now you just need to login to your Bluehost account and make the addition.
Here's how to add your Domain to Bluehost:
Login to account, click domains and then assign
Enter your domain where it says, "Use a domain that is not already assigned with your account"
Click "verify ownership" (this will happen automatically once you've added your nameservers in Namecheap).
Select "Addon Domain"
Then click Submit…that's it!
Install WordPress on Your Website
Congrats, your new domain is in your Bluehost account, and you can start setting up WordPress!
Luckily, this is a super simple process if you have gone through a web-host (like Bluehost) with a one-click installation option.
Bluehost now has a tool called Bluerock that makes WordPress installation a lot easier.
Once you click the "Start Building" button, you're taken to a screen where you can choose your theme for WordPress.
It's important to choose a theme that you like, but this won't make a huge difference to your blog's income. As long as your blog looks pretty good, that's good enough. Pick one you like and move on.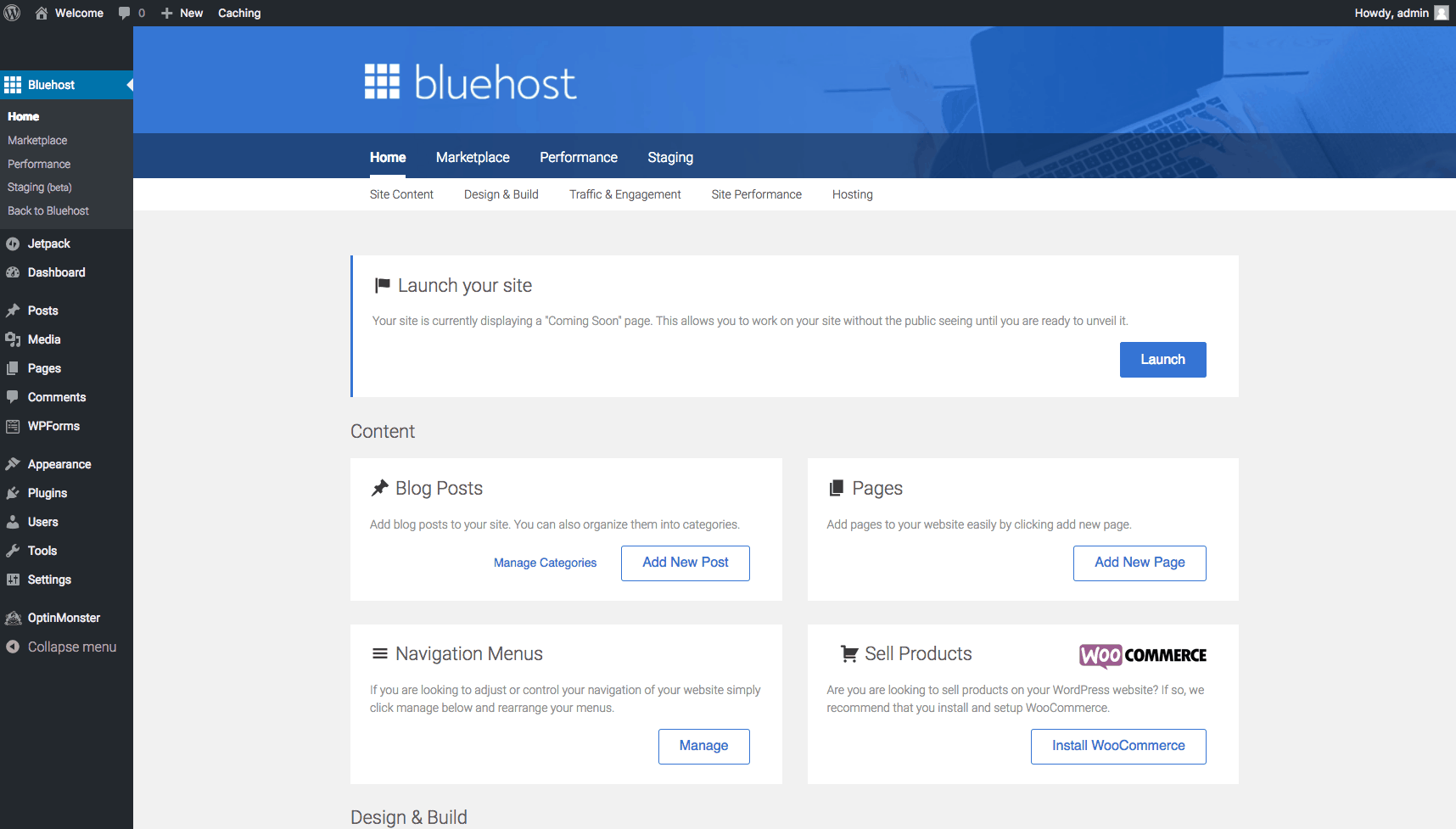 And then you pick what you want to do with your blog. Bluehost even allows for easy installation of WooCommerce if you want to sell your own products.
Next you simply give your site a title (which can be easily changed at any time), and a description for your site. Then you're pretty much finished!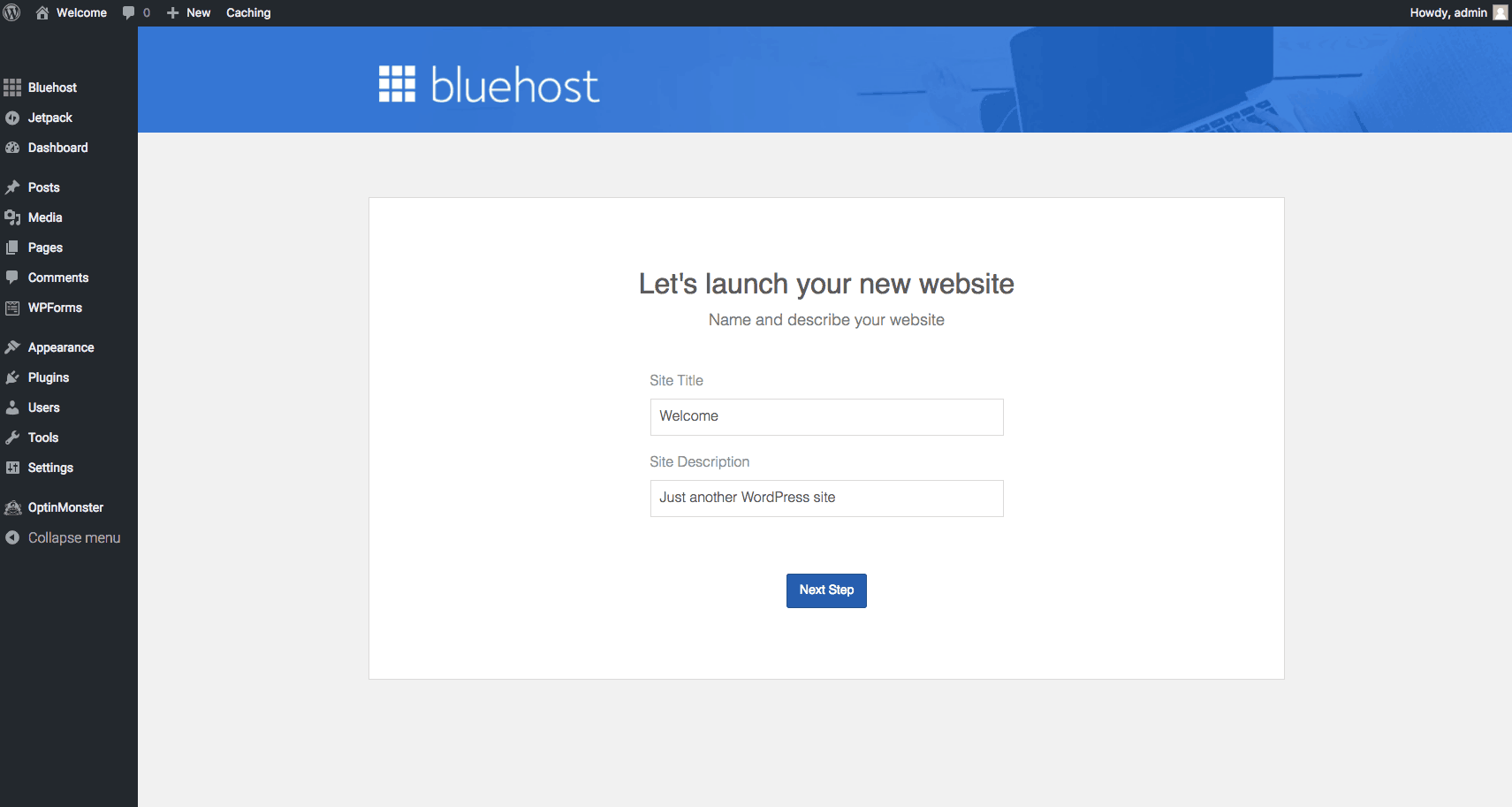 Finally, you just need to login to your site and start the process of writing content…woohoo!  You created your username and password in the previous step and WordPress will email you your login URL and other details.
If you ever forget what your login URL is for WordPress, it's always the same.  Go to YourSite.com/wp-admin.  So, the login URL for MarathonBoost.com is MarathonBoost.com/wp-admin.
I recommend deleting the default posts ("Hello World") and pages, so that you can start fresh.
Blog Basic Settings and Themes
When you get your WordPress blog installed, there are just a few things that I would recommend doing before you start promoting your site.
First, you need to change a few of the basic settings to make your site look and act the way you want.
I would recommend double checking your site name and Tagline.  You can do that under Settings and then General, as shown in the image below:
The next setting menu you should take a look at is the "Discussion" option.  These settings (as shown below) give you options for moderating comments on your blog.
Now, this is totally up to you, so I won't tell you which boxes to check or uncheck.  Just know that you can prevent comments, you can allow comments, you can get emailed when there are comments (or not) and so much more.
So, I highly recommend that you look over these settings and make the selections that you think will be most advantageous to you.  And just know that you can change these at any point in the future.
The next setting you should look at is the "Reading" menu.  If you are like 99.9% of people out there, you want Search Engines (like Google) to find your website!  This is SO important (as I'll discuss  more below) for people to find your website.
So, go to this setting and make sure the box that says, "Discourage search engines from indexing this site" is unchecked! See the image below:
And finally, you should go to the "Permalinks" menu and just double check how the structure is set up there.  The default selection (at least when I installed WordPress on Marathon Boost) is the correct one.
I would encourage you to select the "Post Name" under common settings as shown below: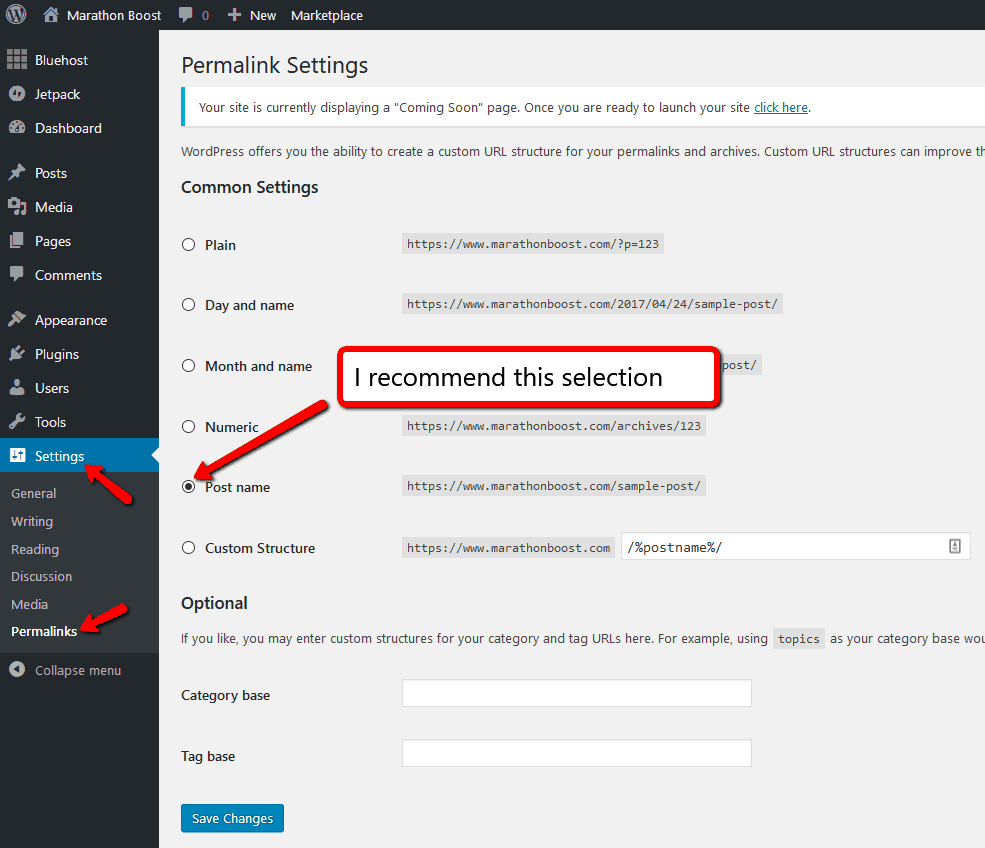 Finally, if you are seeing a message like the one below that you still have a "Coming Soon" page, be sure to click the link to fully activate your site.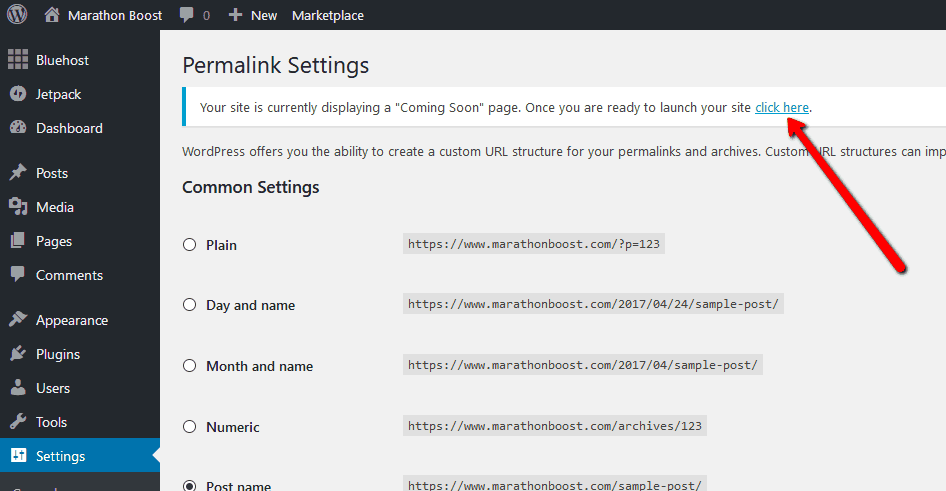 Themes
Now the backend of your website is all set up and ready to go. But what about the front end?
If you go to your live website, I'm sure you noticed that it looks pretty bland.  And that's okay…you are just getting started with your blog!
However, lucky for you, WordPress makes it very easy to change the design and look of your website.  You can select from hundreds of WordPress "Themes" (i.e. designs).
The opinions of what your website should look like exactly vary greatly, so I am not here to persuade you to design anything in a specific way.  I just want to show you a couple of resources where you can browse for both Free and Premium themes to help you find the website look of your dreams.
Within WordPress, you can simply click on Appearance and then Themes to see some of the default options.  And these are just fine to get started, feel free to check them out.
In addition, you can also see hundreds of other free wordpress themes by clicking on "WordPress.org Themes" as shown in the image below.
Honestly, many of these free themes are all that you will ever need.  Some of them look just as good as the Premium themes (ones you pay for).  So, if you are on a shoe string budget, there really is no need to install anything else right now. You can wait until your blog has grown and you are making a few dollars before you think about redesigning your website again.
If you do a simply Google search, you will find that there are TONS of premium themes out there.  You are more than welcome to spend some time looking around.  Or you can look at what we consider the best wordpress themes right here.
The only premium theme that I will mention here is Thrive Themes.  I mention this option because not only do they have some great looking themes, but they also have some great functionality options for when you are ready to get more advanced.
If you think you are ready to look at some more advanced options right away, you can see what Thrive Themes has to offer right here.
---
What Should You Write About on Your Blog?
Phew!  If you've made it this far, you've come a long way.  You now have a live blog on the internet!
However, perhaps you are now staring at a blank page wondering what you should actually write about.  In my example, I know that my overall topic is running and marathons, but is there something specific that you can write about to generate more readers?
I have 3 general guidelines that I'd like to share with you today that will put you head and shoulders above most bloggers out there.  If you follow these 3 ideas for writing on your blog, you will be much better off than if you just write about "whatever I feel like today".
Focus on keywords – Write about topics that people are searching for on Google.
Follow Your Passion: Write about what you are passionate about.
Replicate Shareable Success: Write about topics that other bloggers have had success with (i.e. shareable content).
And if you can do all 3 of these things in one blog post, then you will have hit a massive homerun!
So, if you are stuck for what you should blog about ask yourself these 3 questions:
What are people searching for on Google that I can write about?
What am I passionate about?
What are some popular blog posts from other bloggers that I could write similar content about?
Now that you have the basics, I am going to walk through an example to show you exactly how this works.  And of course, I will continue my example with the brand new blog that I just set up, MarathonBoost.com.
So, what are people searching for on Google related to Marathons (insert your own blog topic here)?
Perhaps you didn't know, but Google actually shares quite a bit of information with you if you know where to look for it.
Have you ever noticed that when you start to type something into Google, they will populate several suggestions?  These suggestions are actually popular searches on Google and typically are in order of most search volume (how many people search for that phrase each day/month).
This is really valuable information!  Here's a couple of examples when I type in "Marathon".
This tells me that people are actively searching for "marathon training", "Marathon distance", etc.  Any of these would be fine topics to write about.  However, you can often do much better in Google if you get more specific (find longer phrases):
As shown above, these would be some great topics to write about.  But Google doesn't stop there, you can often find more detailed questions or other ideas within the search results as shown below.
"How long does it take to train for a half marathon?", and all the other questions here, would be an excellent topics to write about.  You can do the exact same thing for your blog topic.
Finally, Google does provide more information below the search results that will help you find more keywords to write about, see below: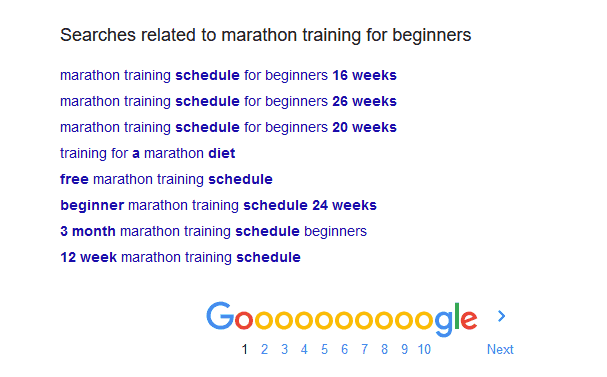 All these related searches are topics that you could be writing about, and you KNOW people are searching for these (otherwise Google wouldn't recommend them).
I cannot emphasize enough the importance and potential success of targeting specific keywords when you write your blog posts.  All you need to do is write about the topic and make sure to include the keyword as part of your title.
So, if my chosen keyword was, "Marathon Training for Beginners"…the title of my article might be, "Marathon Training for Beginners: 17 Strategies to Boost Your Running Performance"
You can also go to the free Google Keyword Planner, where Google provides even more free data on search volume and keyword suggestions. (You will need to set up an account if you decide to try it out).
The final keyword research resource that I will share with you today is Long Tail Pro.  In full-disclosure, I am the original creator and founder of Long Tail Pro (although I've since sold that company).
Long Tail Pro is an excellent way to get even more keyword ideas for your new blog.  This tool makes it very easy and fast to search for keywords, find the search volume, and perhaps most importantly know how difficult it will be to rank in google for that keyword.
Without going into too much detail, Long Tail pro will show you a number between 1 and 100 with 100 being the most difficult to show up on Google for (you should avoid these).  If you can find keywords that have a number (Keyword Competitiveness score) under 30, then you are much more likely to show up on Google and have people find your new blog.
For example, if I do a quick search for marathon related subjects in Long Tail Pro, I can quickly see which keywords and topics I should write about first.
Here's a few phrases in the screenshot below that shoes keywords with low competition (under 30 Avg. KC score) and the search volume.  I would target the keywords with the highest search volume and lowest Avg. KC score).
Follow Your Passion
Another way to decide what to write about is to simply brainstorm what you are passionate about.  For example, right now I'm passionate about trying to qualify for the Boston Marathon, so on my site I would write about how to qualify for Boston.
So, if you can convey your conviction for a topic that you will believe will resonate with your readers, go for it!  After all, you need to have some freedom to just write what you want to write about sometimes, even if you do don't do all the keyword research.
I've done this is the past, and I can think of at least one example where one of my most popular blog posts of all time came from one of these ideas.
Just be authentic, write about what excites you, and you will often find that others agree with you.
The final idea for discovering what you should write about next is to find what other bloggers are doing that is successful and try to do similar things.
I don't mean copy.
What I mean is that if another blogger has written about a unique topic that appears to be getting shared alot on social media, you should look into writing about the same or similar topic, but provide your own unique spin or angle on the subject.
The basic idea here is that if people on social media are excited to share a subject on "Foods that make you faster at running", then they are likely to share your content as well that is on a similar topic.  You should take notice of this and see if you can do something even better!
Maybe you write an article on "7 Desserts That Actually Make You Run Faster".  (I just made that topic up, but as a runner, I'm pretty sure I'd click on that title and share it!)
One way to stay on top of what is "going viral" on social media is to follow other bloggers on Facebook, Twitter, Instagram, Pinterest, or wherever the typical bloggers share their content in your particular niche.
You will be able to see how many likes, pins, or shares a particular piece of content is getting, and you should take note of these more popular posts.
Another way to see what is shareable content is to use a tool like BuzzSumo.

In the image above, you can see how many times these articles have been shared and what types of article titles are performing well.  You should consider writing on similar topics!
Then finally, you can click on "View Sharers" to see who has actually shared the content, and then you can contact them and ask them to share your content as well once its written.
How to Promote Your Blog to Get More Readers
Believe it or not, the previous couple steps really are the foundation for initially promoting your blog and getting new readers.  By writing on topics that are keyword rich, you can likely rank in Google and start getting visitors "naturally" through Google.  They will find you!
Then by creating and sharing content that you know other bloggers have had success with is a great way to get the promotion of your blog started.
Here's 5 Ways that I would recommend promoting your blog to get new readers to start.
Be active on social media. At first, just start with one social media site.  Definitely post your own content (where appropriate), but also be active on other bloggers pages and be as helpful as possible.  When you find the time, you can always branch out to other social media platforms.
Leave blog comments.  Please be smart about this and don't spam anyone; however, leaving a real genuine comment on someone elses website can be beneficial to both of you!  The blogger gets great feedback from a reader (you), and you get to leave a link to your blog (typically).  This is common practice, and if you are always searching out new blogs in your niche, you can easily find 4 or 5 blogs to comment on each day.  This can put you on the radar of other bloggers as well as allow other readers to find you.  This is an excellent strategy to get your first core readers when your are first starting out with your blog.
Email outreach to other bloggers or podcasters in your niche.  This works especially well if you have first left a blog comment or two on their blog.  You can often find a contact form that you can use to email the blogger and let them know how much you've enjoyed reading their blog.  If you sincerely enjoy their blog, that will come across in your email.  You should email them with no other intention than to start building a friendly relationship as a fellow blogger in the space.  Down the road this could lead to things like guest posting opportunities, links/mentions about your blog on their blog, partnerships and many other things.  And if you don't mind being interviewed and have something to share or are truly an expert in your area, I would strongly recommend reaching out to podcasters in your niche! Podcasters are often looking for great guests, and perhaps you have an interesting perspective to share.  This will often get your name in front of thousands of listeners that might be interested in reading your new blog.
Be active in forums or other question and answer sites.  Every niche has a forum associated with it where people discuss and ask questions.  Just go to google and type in your niche + forum, and I'm sure you will find lots of great options.  For example, if I do a search for "marathon forums", I can easily find a dozen running forums that I could join and start participating in.  (Ideally, you would just join 1 or 2 of the most active forums).  Again, you want to be as helpful as possible, and don't be spammy.  However, many times these forums allow you to mention your site in your signature, and this can be a great way to help new readers find you.
Build an email list.  Overtime, you will get more and more people coming to your blog.  Ideally, you can get these readers on your email list so that you can stay in touch with them as you create new content.  How does this help you promote your blog?  Well, for one it keeps your existing readers a way of knowing what you are up to.  Keeping current readers sticking around is very important.  However, as your email list grows, you will likely get other bloggers to join YOUR email list.  Then as you simply email your list, these bloggers may take note and decide to mention you on their blog or reach out to you for other promotional opportunities.


---
How to Make Money With Your Blog
Okay, now comes the golden question: "How do you actually make money with a blog?". The answer is that there are TONS of ways that you can make money from your new creation.
I will give you just a few ideas here, and then share some examples of real live blogs that are making good money below (so you can see exactly how they are doing it).
Advertising Revenue
This is a typical way to start making money with your blog.  Believe it or not, it's quite simple for even a new blog to be approved to ad networks.
I would recommend that you try to get your start with Google Adsense or Media.net.  Both of these are pay-per-click networks that, as you guessed it, pay you each time someone clicks on your ad.  This is passive revenue at it's finest!  You don't have to sell anything or do any customer service, just get paid if someone clicks an advertisment.
(Obviously don't make the crucial mistake of clicking your own ads – Google is smart 🙂 ).
Here's an example of a website using Google Adsense on their website: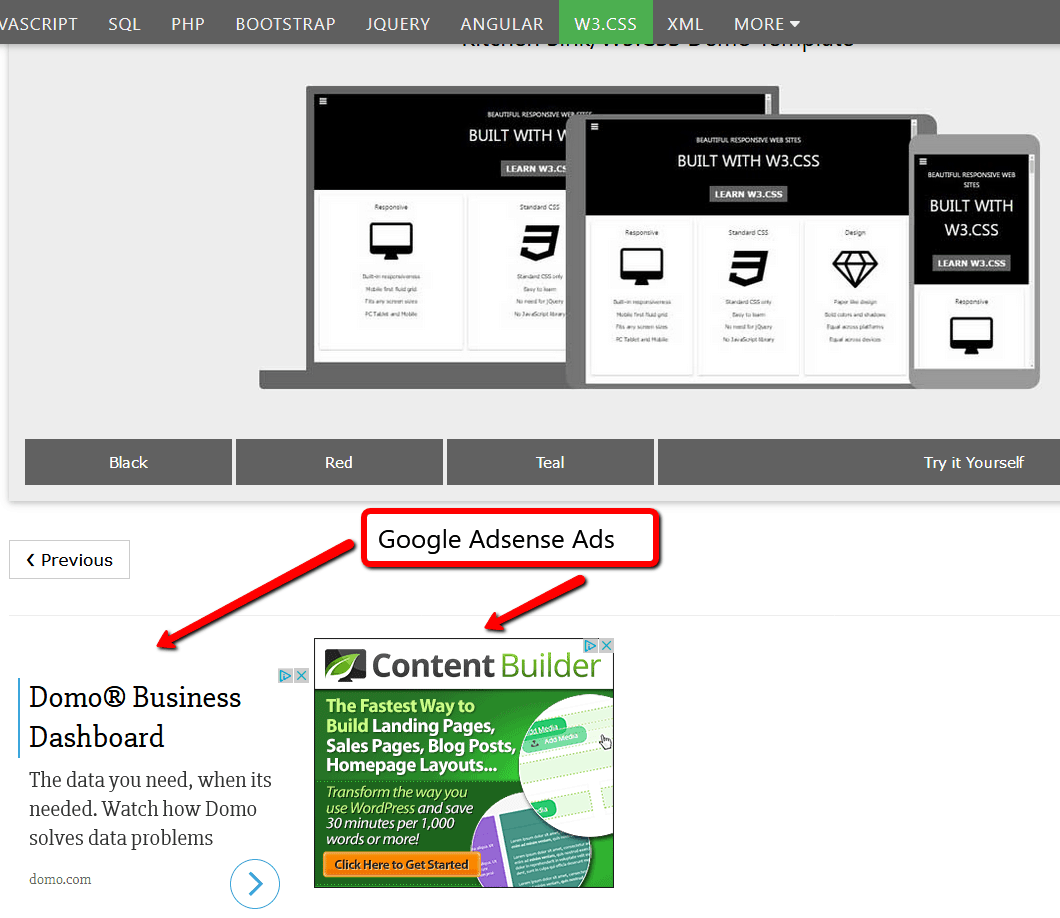 Affiliate Sales
In order to make money with your blog, you can also become an "affiliate".  You can find affiliate networks or contact individual brands and become an affiliate of theirs.
Essentially, if you refer someone from your blog to let's say Zappos.com and that person buys a pair of shoes, you would get an affiliate commission.  This might be 5% of the price of the shoes.  So, perhaps you make $5 or $10 when someone buys a pair of shoes.
A very easy way to get started as an affiliate is through the Amazon Associates program.  Because Amazon has millions of products for sale, you can refer people to Amazon for just about any niche you are in.
So, let's say that I refer someone from my running blog to Amazon to buy a fuel belt. I'll make a sales commission if they buy within 24 hours!  However, one of the great parts of the Amazon associates program is that if this person buys ANYTHING on Amazon (even if they don't buy the fuel belt) within 24 hours, I will get credited with that sale and earn a commission.
This is exactly what I've done with one of my websites which generated $2,985 in earnings for me during just one month.  Here's a screenshot from my Amazon Associates account:
Sell Your Own Products
The final way that I will mention that you can make money from your own blog is through creating and selling your own products.  I believe that this should be what ever website shoots for down the road.  So, while you might get started making money with ads or affiliate sales, selling your own products can take your business to a whole new level.
But what can you sell?  This really depends on your blog.  However, there are typically a few good options.
Books
You could sell your own ebooks on your website, or you could sell Kindle eBooks through Amazon.  No matter what niche you are in, people are always looking for good information.  If you can be the expert and provider of that information, they you have a product to sell.
Sure, you could try to traditional publish a book, but I wouldn't look at that as an option until you've proven that you have an audience, and even then selling an downloadable eBook or going through the Kindle platform could be more beneficial to you.
Other Digital Products or Training
If you really can establish yourself as an expert, people will pay for your advice and training.  A common route for bloggers is to create some sort of video training course that readers can buy.  This can be a highly profitable venture since your costs are so low (no physical goods).
You could also start some sort of membership site that people pay monthly to be a part of.
Finally, you could also create a software product that people in your niche would be interested in purchasing.  This is what I did with Long Tail Pro.  I am a blogger that talks about keyword research from time to time, and so when I created Long Tail Pro, lots of people were willing to buy from me.
Physical Products
Once you have a platform and readers, the possibilities are really endless, and this includes create your own physical product.
For example, if we go back to my MarathonBoost.com example and I know I have lots of readers that run marathons, I could create and sell my own running belt.  If I have a great idea that I think runner's will benefit from, then the possibility is definitely there.
Now launching and manufacturing a physical product can be a time consuming and expensive process.  So, this is not likely going to be the first way that you decide to monetize your blog.  However, just keep in mind that it is feasible that someday as you grow your audience you could start launching your own physical goods.
Examples of Successful Blogs
Now that you know how to start and promote your own blog, it's time for some inspiration.  One of the best ways that I've found to stay focused and even give me new ideas, is to look at what other bloggers are doing.
Below I am going to share of few examples of successful blogs in a few different markets.  This will allow you to see how they are making money, how much traffic they are getting, and what they've done to achieve the success that they have.
Fashion Blogs
Fashionista.com
If you are interested in learning how to start a fashion blog, this section of sites will be of particular interest to you.  Fashionista.com is a fashion blog that covers everything fashion related and receives a significant amount of traffic from Google (as you can see from the image below).
Fashionista ranks for keywords in Google such as "oil pulling" and "how to dress business casual".
One of the articles that has been shared the most on Fashionista is called, "Iris Apfel Thinks Dressing For Your Age is Stupid".  (This gives you an idea of the types of articles that might go viral).
TheEveryGirl.com
The Every Girl blog covers fashion, of course, but they also cover lots of other topics like Careers, Culture, Travel, and more.  This is a great example of a blog that may have started with one focus, but then was able to expand as they found success.
This blog gets lots of traffic from Google and ranks for keywords like:
what is a capsule wardrobe
DIY manicure
how to treat dry scalp
and much more
This blog focuses a lot on images and Pinterest.  So, Pinterest is also a significant traffic source for this blog.
One of their most "viral" blog posts is: An Intereior Stylist's Glam Midwest Remodel.  This blog post has images that have been "pinned" over 100,000 times on Pinterest!
Food Blogs
I would also like to give you some examples of food blogs that are doing well.  If you are interested in how to start a food blog, these bloggers could give you some inspiration and show you what a successful finished product might look like.
PinchofYum.com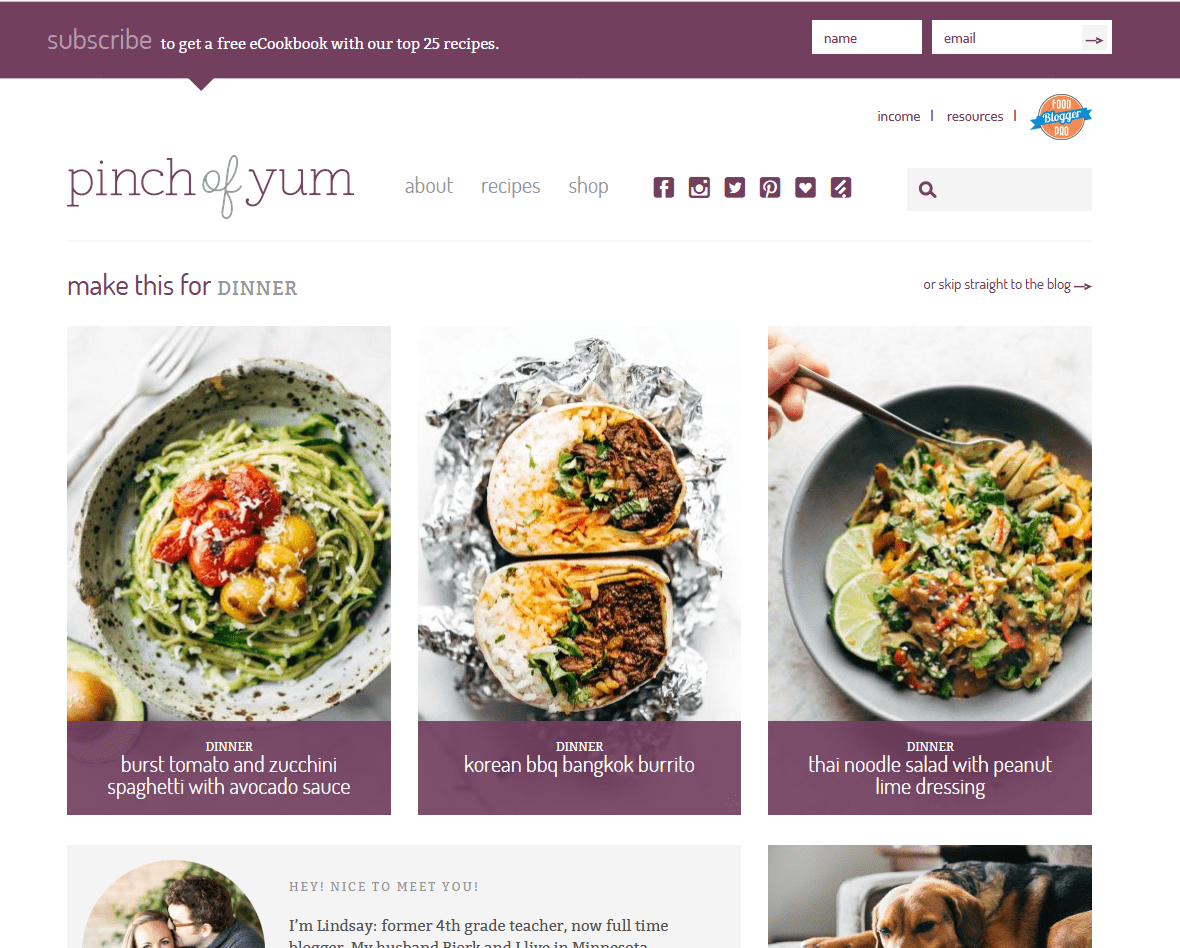 Pinch of Yum is a food blog, that also happens to share their income each month, so we can get a lot of insight into what is working well in their business.
As you can see, they write about food, recipes, and take TONS of pictures.  These high quality pictures drive a lot of traffic from Pinterest, which is the second largest source of their traffic.
The top source of traffic to the blog is through Google (both organic search and images).  As you can see from the screenshot below, they get a ton of traffic from Google and rank for keywords like:
chocolate chip cookies
pasta salad
cauliflower rice stir fry
and much more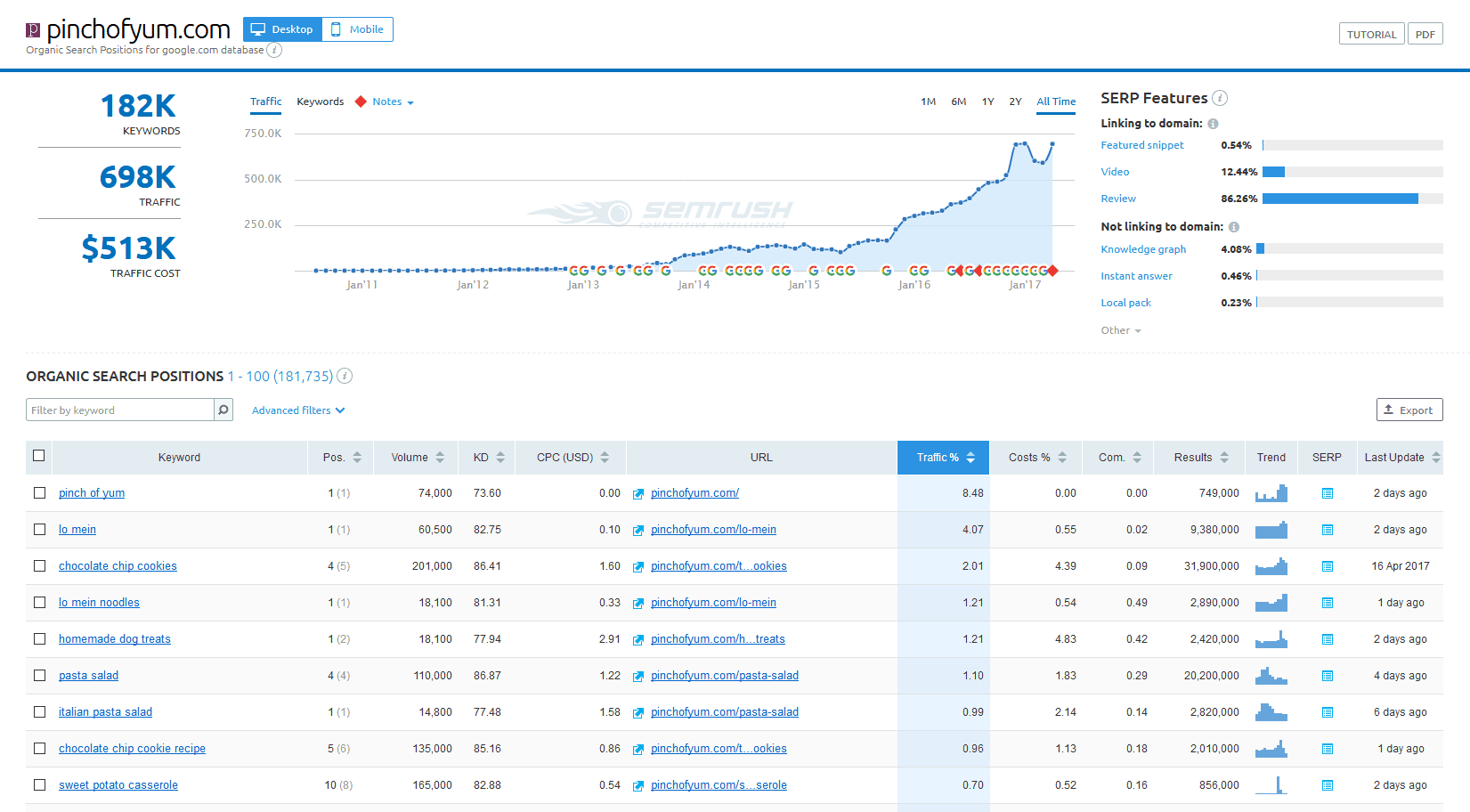 Now as a business person, what I love about Pinch of Yum is that they share their monthly income!  For example, a few months ago, they showed that they made over $52,000 through AdThrive (Ad network) and over $20,000 from Sponsored content…all in one month!
So, is there money to be made in starting a food blog?  Yes, Pinch of Yum has clearly proven that.  Just remember that success doesn't come overnight, these bloggers have put in a lot of time and effort.
JessicaGavin.com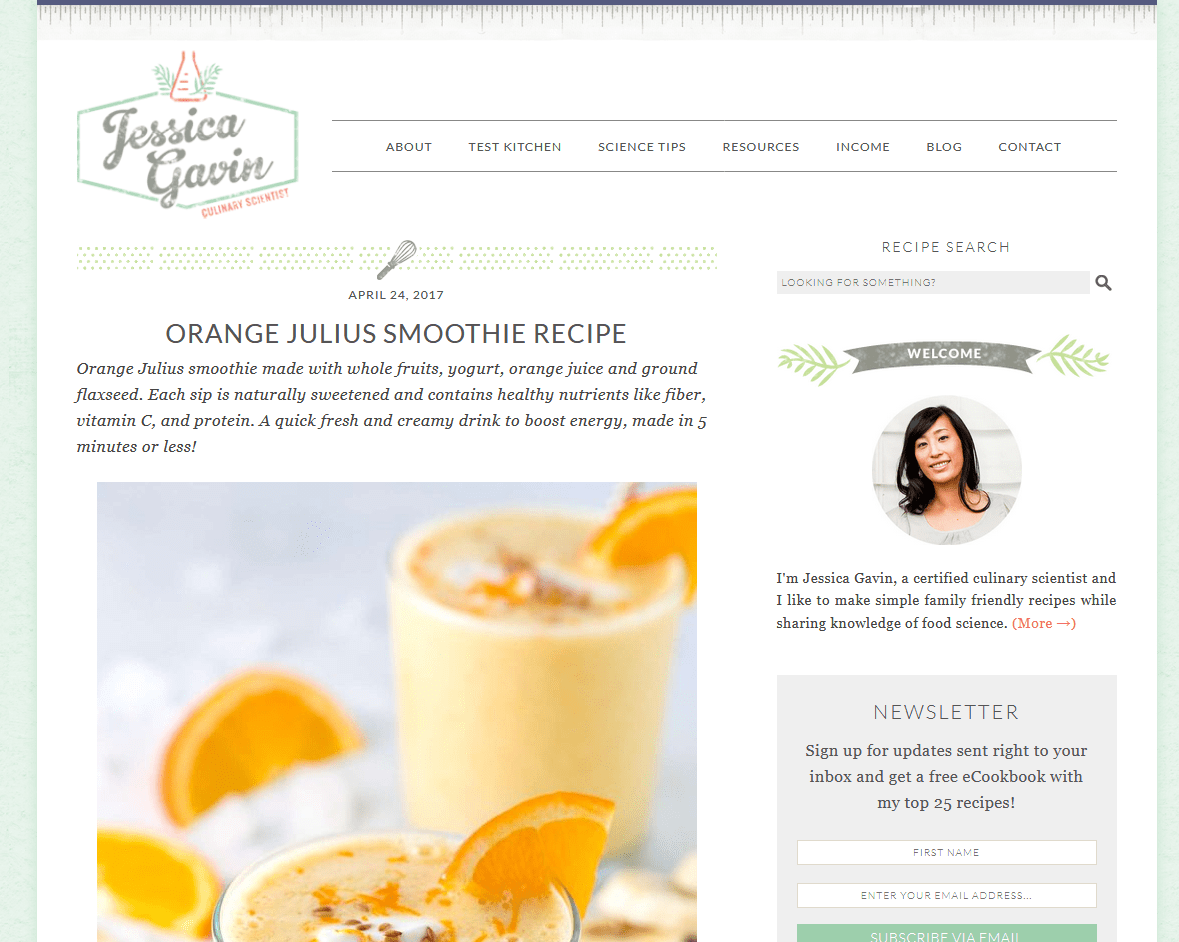 Another food blog that is enjoying success is JessicaGavin.com. Jessica is a certified culinary scientist, and well, enjoys writing about food and diet!
Jessica also shares her monthly blog and income report, which shows that she is making over $5,000 a month in revenue!  Although its not as much as Pinch of Yum, it's still an excellent income source.
As you can see from the image below, JessicaGavin.com ranks in Google for keywords like:
Salmon Poke Recipe
Mexican pulled pork
crock pot chicken noodle soup
and much more
The top traffic source for this site is Google and the second leading source is Pinterest.  The most viral post (shared the most on social media) is: Spiralized Vegetable Salad with Roasted Chick Peas.  The main reason for its popularity is through images shared on Pinterest.
Travel Blogs
NomadicMatt.com
If you want to learn how to start a travel blog, then Nomadic Matt is a good example to follow.  On his blog, he of course covers his own travel adventures, but he also share tips on how to save on travel, how to eat while traveling, and much more.
According to SEMrush, this blog gets a significant amount of traffic from Google.  NomadicMatt.com ranks for keywords such as:
best thai food
how to plan a trip
packing list
and so much more
Matt makes money in a number of different ways from his blog, but one of his most prominent ways is through selling his own books and courses.  He sells a number of travel guides on this page.
HeyNadine.com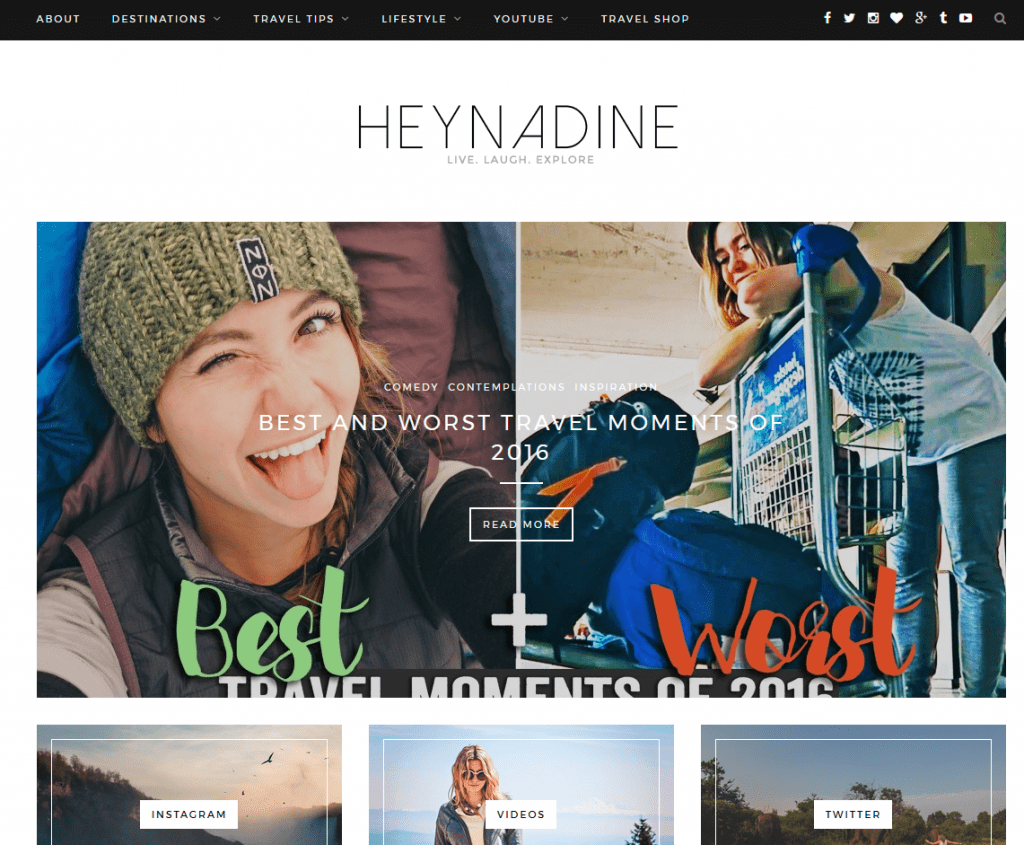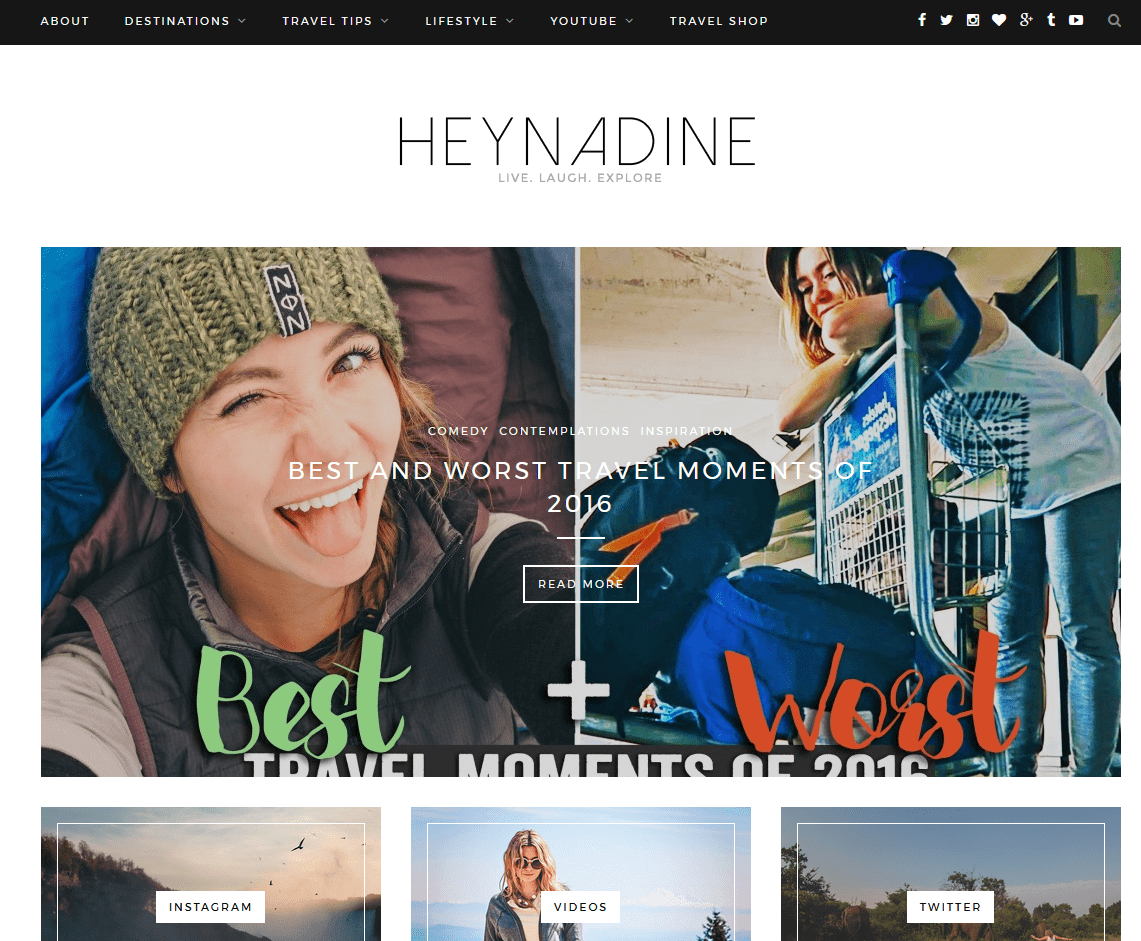 Another travel blogger that has an interesting approach is HeyNadine.com.  Nadine covers similar topics to Nomadic Matt; however, a large part of her strategy is YouTube and social media channels.
So, as you can see below, she does not get a huge amount of traffic directly from Google.  But she does have a really large YouTube, Instagram, and other channels.  So, while she does rank for some keywords, getting traffic from Google is not her major source.
Nadine likely derives a decent amount of revenue from ads on her YouTube channel. 
Overall, I hope that some of these successful blogs have provided you with both some inspiration and education!  There are other bloggers out there making a living from what they are doing.  So, whether you are just blogging for fun and starting a blog to create some side income, the possibilities are definitely there.
---
Next Steps
Now that you know how to start a blog, the next step is to take action.  And of course, this goes well beyond just setting up web hosting and installing wordpress.
If you were to read other articles on "how to start a blog" they would stop after showing you how to get your website all set up.  However, that is just the beginning.  So, after you have purchased your domain name, set up your Bluehost Account, and installed WordPress; here a few next steps to consider.
Content Schedule and Length
I would recommend that you sit down and decide how frequently you are going to post content to your blog.  The argument could be made for writing lots of content, but other arguments can be made for simply writing less frequently.  Both can work.
If you are hoping to generate lots of free traffic from Google, I would strongly recommend that you make your articles longer (over 2,000 words…at least!).  
So, if you are writing these longer articles that can sometimes be 3,000 or 4,000 words or more, then you likely don't have time to write an article each day.  In fact, perhaps one article a month is all that you can fit into your schedule…and that's just fine!
On the other hand, if you want to just create more of a personal blog or don't want to get free traffic from Google, then writing shorter articles is fine and perhaps you can post more often.
The key idea here is to determine a schedule that works for you, set a goal to stick to that schedule, and then follow through.
Build Your Tribe
If you can connect with your first 1,000 "followers" as soon as possible, you will have started your "tribe".  Having this core group of readers that believe in what you are doing is perhaps more important that you realize.
Of course, your first readers might be your close friends or family.  However, to reach 1,000 followers you will need to start branching out through social media, forums, or some of the other methods already discussed above.
If you can connect with a core group of readers on a deeper level by being as genuine as possible, then people will be willing to keep reading, share your content, and eventually buy from you.
Connect With Others
At the same time that you are working on building your tribe, you should be out connecting with other bloggers and influencers in your space.  Did you read a good article from a fellow blogger?  Reach out to them via email and let them know that their content resonated with you.
Again, you should be seeking to build relationships and even friendships…not for anything in return.
The reality is that when you start connecting with people on a friendly basis, they are more likely to take notice of you which can lead to great things in the future.  Will everyone you reach out to become your friend or eventually share your content?  Of course not.
But either way, by being friendly to other bloggers in the space, even if you get nothing in return, you will have made the internet a little bit better of a place.
Overall, I think this principle of genuinely appreciating what others are doing out there and having a positive attitude in general towards others bloggers and readers, will often repay it's dividends in unexpected ways.
Have Additional Questions or Thoughts?
I hope you have enjoyed this epic guide to starting your first blog!  I believe that I have covered everything that you need in order to get started and even begin the process of creating content.
However, if you feel like I have missed something or just have a question that you would like to run by me, please drop a comment in the section below.
By Spencer Haws
If you've seen several messages saying, "@username invites you to join their Broadcast Channel," you're me over the past few months since Meta announced the feature in February 2023. What was once a trickle is now a flood as Instagram opened its Broadcast Channels...