In this new economic era, eCommerce product videos have started riding the crest of popularity bringing a staggering amount of profit to the e-commerce marketers.
There's no room for doubt that in the last couple of years the concept of e-commerce advertising has seen a significant paradigm shift throughout. With mobile phones in every single hand, marketers have been continuously looking for different engaging ways to reach their potential customer base.
Statista shows a forecast of the number of digital buyers worldwide from 2014 to 2021. It's estimated that over 2.14 billion people worldwide will buy goods and services online in 2021.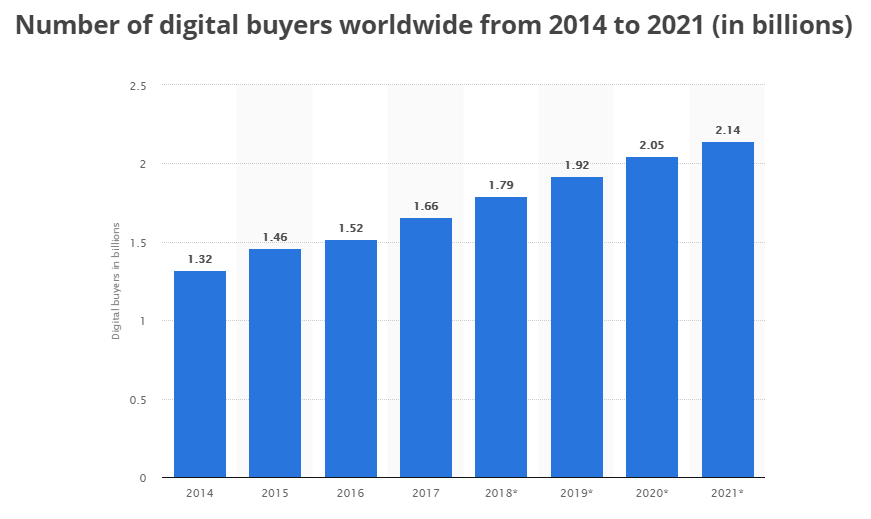 Image Source: Statista
With such a tremendous increase of digital buyers, needless to say, product videos have the prowess to attract new clients and in addition to that help viewers better understand the information compared to any textual messages.
Incorporating e-commerce videos into your business strategy hence make your audience stay longer on your website finally boosting organic credibility and increasing conversion rates.
Ecommerce Product Videos – Definition, Importance & Benefits
A product video is the one that adequately explains the benefits of a product to potential consumers. Such videos demonstrate the features of the product and show the clients how the product can solve their problem.
E-commerce product videos can be of different types as explained by Jayson Duncun (video marketing expert) in 'A Guide to Eleven Types of eCommerce Product Videos.' He explains that videos can fall under the following categories, but you need to choose one according to your requirement:
Videos with a plain background
These are budget friendly videos and can be used by start-ups or businesses that have budget constraints. Created in the plain color background, these videos are not that effective compared to other types.
Videos with real-world location
Quite similar to plain background videos, these types of videos are also extremely popular with small enterprises. The only difference lies in the concept that they incorporate real-world locations which adds context to the product. These types are more effective because they help the viewers to visualize the product in their real life.
Tutorials and 'How to videos'
Popular styles in social media, these video forms are the best ways to introduce your product and its functions to potential consumers.
Interviews industry experts
Videos that feature expert interview or talk shows about the product has an added advantage to attract new clients.
Animated Explainer Videos
Animated videos are one of the proven ways to engage potential consumers. These types of videos incorporate funny elements to explain your products.
When users record a video about your product, they are termed as user-generated videos. Customers practically love these types of videos because they are more authentic than the other forms.
Now let's discuss the advantages of e-commerce video marketing:
a) E-commerce Videos Increase Search Engine Results
Adding relevant videos to your marketing strategy will inevitably boost your page rank in search. When search engines see that your page has information pertinent to search requests, they give credit to your page. In addition to that, videos can create backlinks to your site and add value to your content.
b) Product Videos Boost Conversion Rates and Sales
Product pages with videos see 37% more conversion than pages without videos. They have product videos on your site show that a company can experience 10X increased sales. Research reveals that as humans are visual animals, they are more likely to visit a website that has product video in it.
c) E-commerce Videos Build Trust and Enhance Customers' Shopping Experience
It's a general tendency of people to see and understand the product before buying it.
Wyzowl says 33% of people prefer to watch a video to learn about a product. Hence a product video helps people to sense the features of the product and its quality. Further, the videos play a crucial role in making an impact on the consumers' mind. This way they get convinced and finally travel through the sales funnel.
d) A Vibrant e-Commerce Product Video Attracts New Customers With Ease
One of the most compelling reasons for creating a product video is to attract new customers. Millennials and Gen Z prefer to know about a product more in lesser time. So with e-commerce videos embedded in social media channels, you can reach to millions of clients.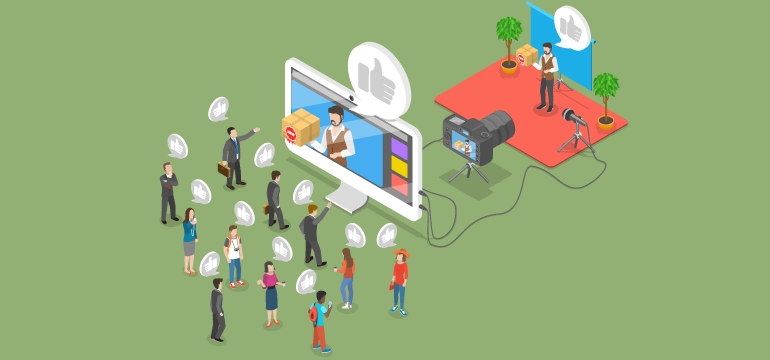 Want to Improve Your eCommerce product videos? Look at These Excellent Tips & Examples:
Are you worried about how to improve your ecommerce product videos? We have compiled a few tips and tricks for you. Get tips & examples and create the most stunning e-commerce video to woo your clients.
Tip#1: Weave A Beautiful Story About Your Product
There's a famous saying by Seth Godin- 'People do not buy goods and services. They buy relations, stories and magic.' Undeniably this saying is right. Neurologically we are designed to get wired to stories. We respond to stories well.
For example, when you tell about your product like where it was made, who made it, what kind of struggles you had to face while creating the product, what's your mission behind creating the product – people feel more connected.
Needless to say, storytelling in e-commerce captures your target audience's imagination and hence has a mesmerizing effect on them.
However, it's recommended that while you try to tell a story do not make it too complicated. Keep it simple, engaging and allow your potential customers to flow with the narration.
Video Source: 5 Product Videos You Can Use In Your Ecommerce Video Marketing
This video is an example of one of the best product videos 2019. Showing the storytelling skills of the Shopify store, the video narrates about Mucus the villain and Mucinex as the savior (the hero).
Tip#2: Induce Emotions Of Your Target Customers
The products of your company are an expression of your thoughts, your visions. They are designed to satisfy the desire of your target audience. Hence when you create a product video, it's your responsibility to express to your potential customers how you want the product to solve their problem.
Your audience will relate to you and your product when they find it useful.
How do you make them feel that the product is ideal for them?
The idea is to induce emotion amongst your target audience. Create such a video that undertakes an amusing approach to demonstrate the benefits of the product.
A report published in Buzzsumo states that people can relate more to a product or service when they feel a certain amount of emotion. To conclude evoking emotions like awe, laughter or joy can help you sell the product.
Video Source: 17 Best Ecommerce Product Video Examples
The founder evokes emotions of his target audience giving a personal story behind why he started the company and spoke directly to the parents of kids like he used to be. This video adds a nostalgic perspective.
Tip#3: Explain Your Audience How You're Better Than Others
Why will people buy your product?
Needless to say, it's a recurring thought disturbing your mind now and then.
Did you know product videos increase sales?
Let several years of research and development see the light of the day through e-commerce videos. Explain to your audience how your products are better than your competitor's products.
Product videos are the best ways to inform your potential customers what makes you unique- is it the process or the material? Inform your target audience using a clear message. People will thus understand why they should go for your products.
Video Source: Best eCommerce Product Videos: 16 Tips With Examples
BlenderBottle does a wonderful video to showcase its unique features and benefits to its target audience.
Tip#4: Best Ecommerce Product Videos are Short
Several market research reveals that the best product videos are those that are short and precise.
As humans have lower attention span videos that are not more than 30 seconds have the power to create magic. So, every marketer should focus on creating videos that are short yet informative.
However, sometimes you might get confused with successful stories of some longer form videos. There are certain types of videos that demand more explanation and hence need more time. So, it's essential to understand the purpose of your video.
Whether you are planning to deliver a 'how-to video' or an 'explainer video' understand first who your audience is. Then spun magic with your creative talent.
Tip#5: Choose the Right Ecommerce Video Platform
Choosing the right ecommerce platform is extremely crucial for your business. How would you select the platform? It's simple. Consider the social media channels that boast of a large group of monthly users.
Besides Youtube with 2 billion monthly users, Facebook is popular among the present generation with over 2.38 billion monthly active users and Instagram boasts 1 billion monthly active users.
Once you have selected the social media channels to publish your videos, don't forget to include the call to action button. You need to understand that videos are a perfect way to nurture a customer-company relationship.
If you don't guide your consumers in every step, they are sure to get lost and move away from you. You don't want that to happen right!
Tip#6: Invest in a Best Ecommerce Video Maker
This goes without saying that if you want to make your customers' head turn, you must invest in quality equipment. Although you might have smartphones to shoot your video yet, it's not a good idea to depend only on these devices. Why not find a professional way to shoot your next project. You will come across several video making tools ideal for any e-commerce business to choose the suitable software according to your necessity.
Some of the best tools are mentioned below:
Shakr allows you to craft visually stunning and ROI generated video ads so that you can promote on Facebook and Instagram to attract clients.
GoAnimate is a user-friendly video maker that has the drag-and-drop functionality and allows you to create animated videos.
Camtasia assists you in recording voiceovers, editing or adding green screen as per requirement.
Videoshop is a customizable tool that helps you organize, trim and arrange your clips. With it, you can even add in transitions, text and effects like slow-mo/fast-forward, etc.
Animoto is a tool that gives access to licensed music, a huge list of professionally designed video styles and unlimited editing features.
Over To You
When 73% of online consumers say that they are more likely to buy a product after watching videos it has become a bare necessity for every marketer to create e-commerce product videos. Increase conversion, boost your page rank and add to your revenue with videos that matter.
Amplify your business with several such interesting and profitable video marketing strategies from Animatedvideo.com.